Usually, I post an update once a month. However, this month is filled to the brim, so I want to get the news out a bit earlier so that you know what's the latest. Without further ado, the mid July update!
In this update:
Moving to a new space;
Service announcements;
The Zima macropad interest check and knob availability;
Kyria Plus development, and;
Tenting reintented, and a survey to ask for your opinion on tenting.
Moving out
As shared in last month's update, I'll be moving to a new office. It's coming closer, and I received the keys last week. This week I'll have to spend time to clean the space, pack my inventory and move to the new office. All of my current furniture and equipment will be moved by a moving company on the 20th, and I'm hoping to get everything reassembled and ready to go by the 21st.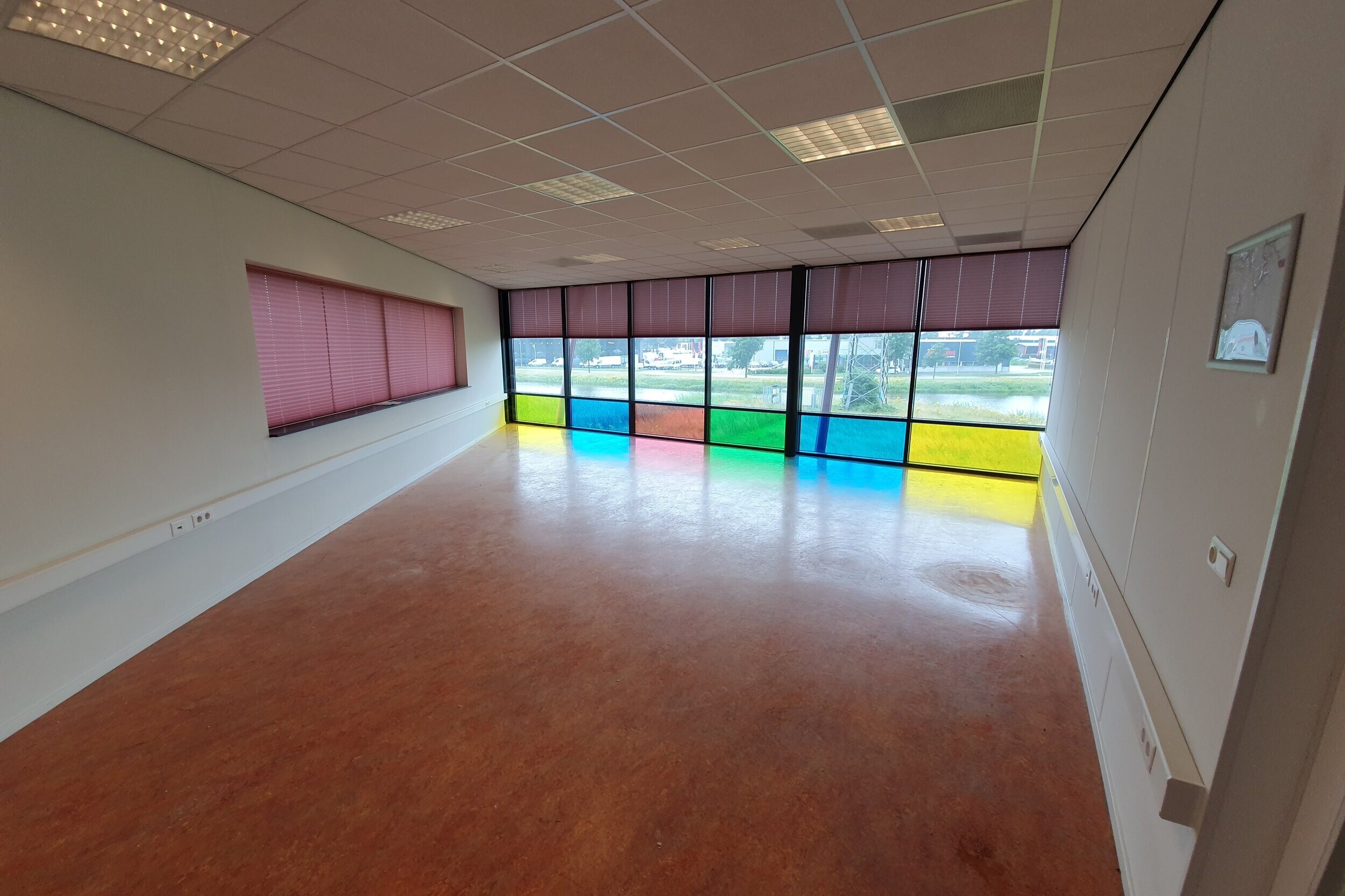 Service announcements
Shipping: Me moving to a new office means that shipping will be halted from the 16th, and will resume on the 22nd of July, while I spend the time to move and make sure I can resume operations smoothly from then on.
Support tickets: The move has cost more effort than I anticipated. Combined with production issues on the custom matte knobs and logistical issues on receiving hardware for plate cases, I have a large number of support tickets to work through. This means that you may have been waiting on a response for longer than you're used to.
Pending orders with plate cases: Mounting hardware for plate cases has been delivered, and plate cases are shipping out again. It takes some time to get the queue empty again, so thank you for your patience while I work through this queue.
Pending orders with matte knobs: I'll be handling the support tickets for this over time. Replacement Kile Matte knobs have arrived to fulfill orders for those who wished to have items in their order replaced, which will also be for sale for new orders later this week. A new manufacturer has been selected, and a quote has almost been finalized with me receiving samples of the finishing this week. Lead time will be another three months from then on, so the delays are significant - but at least this way I should be able to deliver the quality you expect from me.
Pending orders with custom Kyrias: It's been a while since an update on this went out. I have stopped offering the build service due to me not being able to cope with demand. To speed up matters, I've outsourced building these kits, which will go into effect next week. You should be seeing progress in the queue soon. I will still be performing the final quality control on the build service, and I fully expect to be able to fulfill all custom Kyria orders within two months now.
Pending orders with MBK keycaps (group buy): One of the group buy runners, u/fk-caps has posted an update on Reddit stating that the keycaps should arrive at vendors by the 24th of this month. I will still have to kit and ship these keycaps from that moment on, so you may expect to receive shipping updates by the start of August.
Pending orders with Corne LP (group buy): Production of the cases has started, and components are starting to come in. Not all components have an estimated arrival date yet. For now, it looks like everything is still on schedule.
If you have questions about a pending order, feel free to send an email to support@splitkb.com. Responses may take more time than usual while I spend time catching up - thank you for your patience.
Product announcements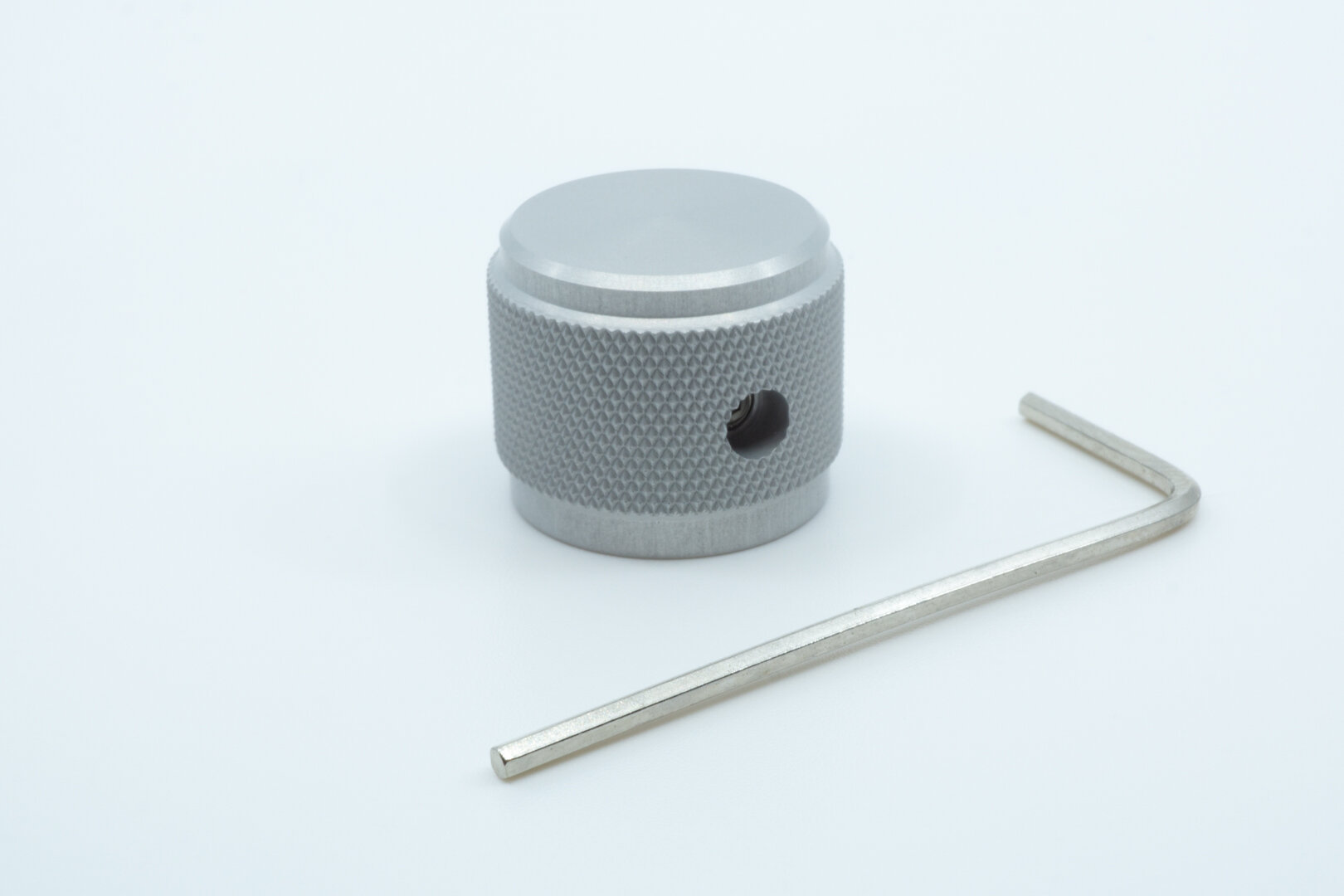 Work in progress
Here are updates on some projects I've been working on in the past weeks.
Kyria Plus
So much to do, so little time! Still, I've found some time to get a start in with the Kyria Plus. I'm aiming to release it before Christmas 2020. I'm happy to note that the interest check proved to be hugely popular, and I'm sure the Kyria Plus will not disappoint. The interest check contained many questions about exotic features, but it didn't include questions about all features. The Kyria Plus won't contain all features noted in the interest check, and it will contain some features that were not in the interest check, so I'm sure you'll be pleasantly surprised!
Visit the Kyria Plus Interest Check
Some sneak peeks: The Kyria Plus will have a number row, hot swap for MX switches, USB C, and will support the same features that the Kyria supports. In addition to that, I'm planning support for some experimental features, which I will announce once I'm sure they work.
Tenting
Being able to tent your keyboard is a very popular feature request. I've been offering a tentable Kyria case on the down low through Discord for a while now. While it's a nice case, I'm not especially fond of using M6 hardware bolts to achieve the tenting, as they're large, may not always be visually attractive, and take a while to undo in case you want to travel with your keyboard.
I've been thinking about this for a few months now, and went on to experiment with an adapter that I'm calling the Tenting Puck.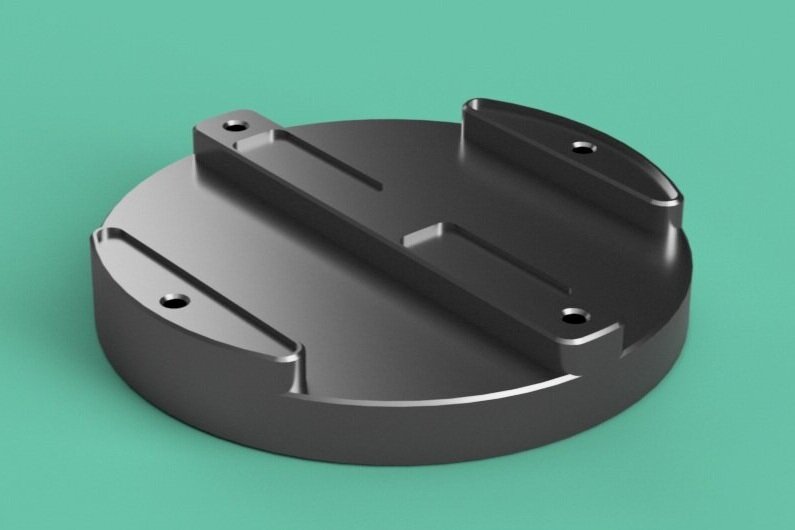 I'm currently using a prototype of this puck, and a second revision prototype is currently in production. For my prototype, I've attached the puck to the bottom of my acrylic plate case.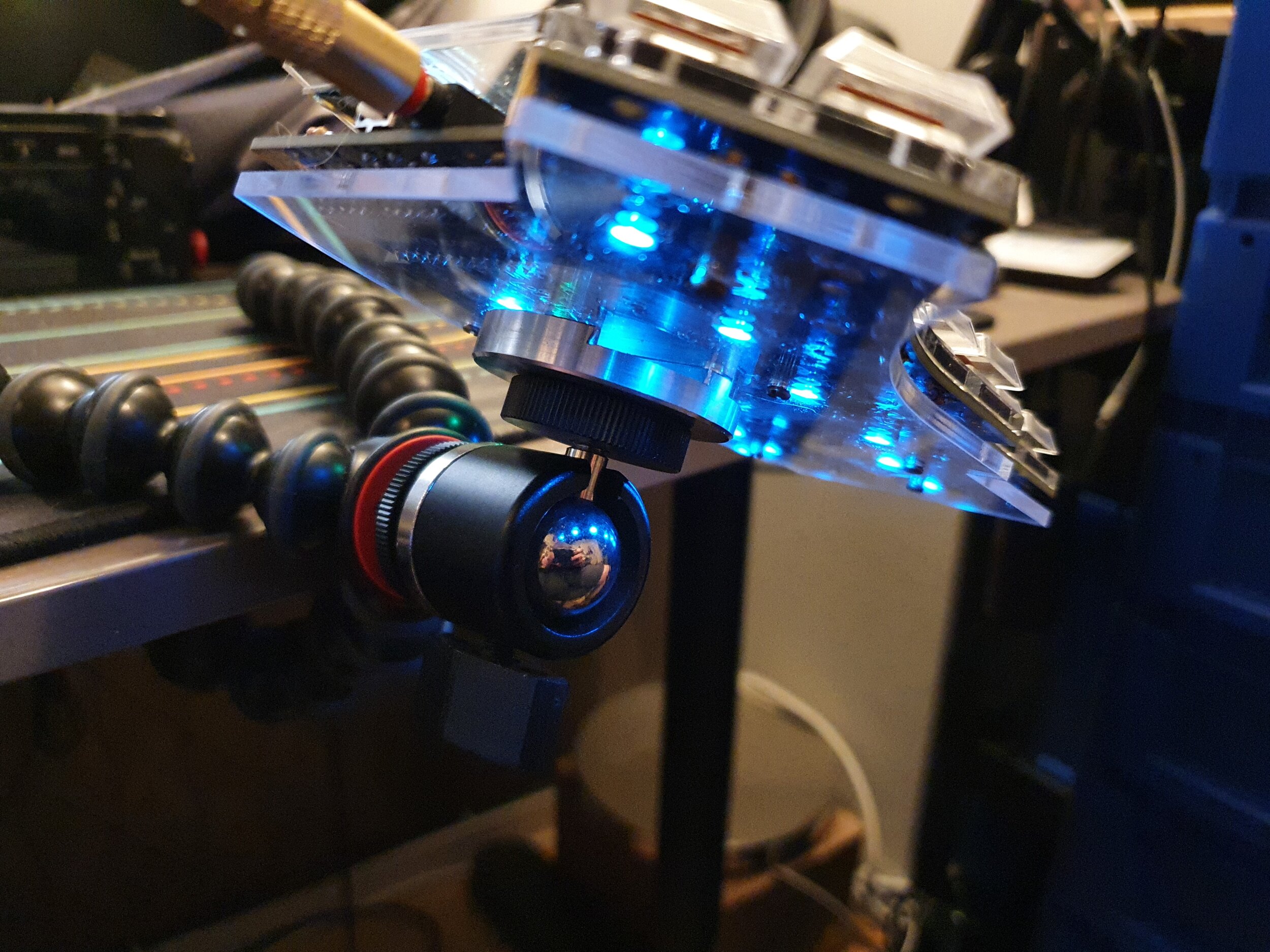 To allow for the puck to sit flush with the case, I have ordered a set of new Kyria PCBs with the right mounting holes for testing. This will allow to use the keyboard both tented and untented, but will need a dedicated PCB and case.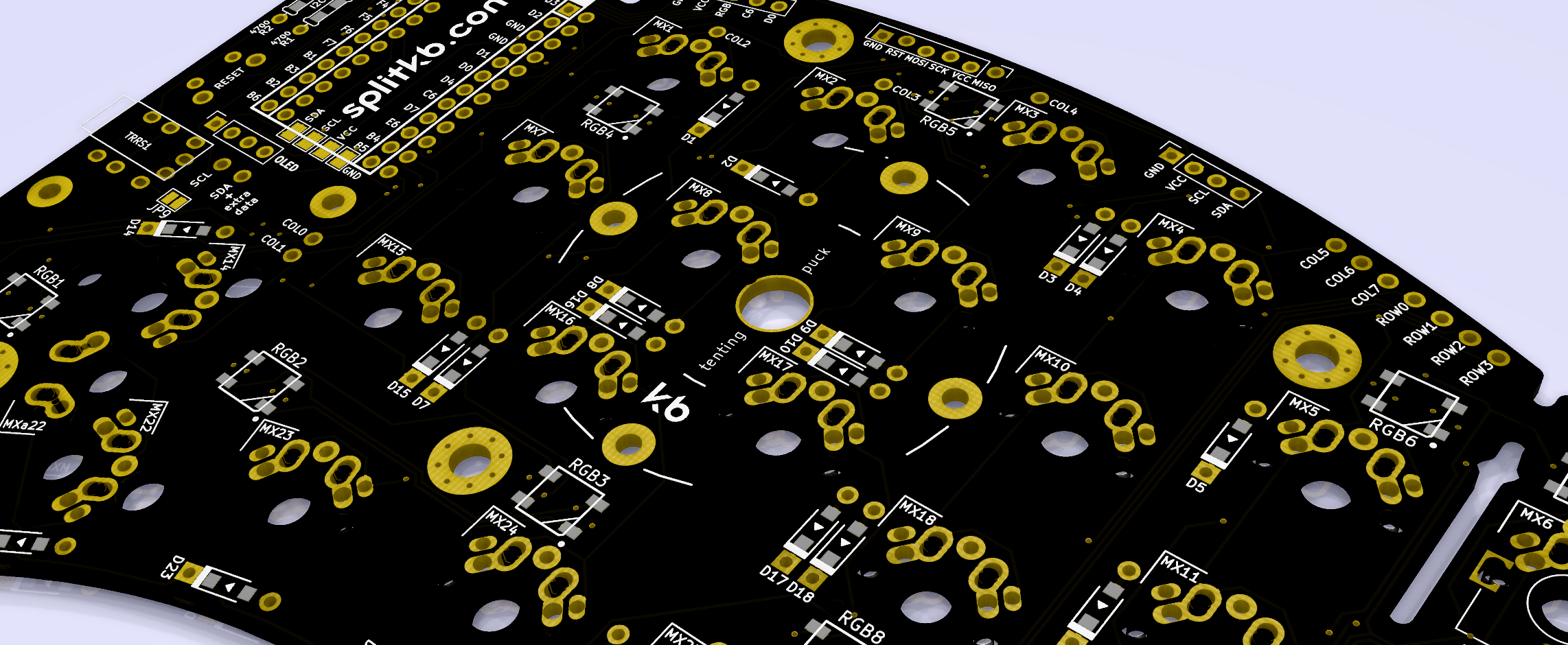 With the release of the tenting puck, I'll release the footprint I've used so that other PCB designers can include it on their keyboards. Next to the footprint, I'll release a drill template you can print and use to retrofit the puck to any acrylic case, with the caveat that a retrofit case likely will wobble when used untented with the puck installed.
This is all very experimental still, and some people have already expressed interest on Discord. If you're interested, I'd love your feedback on my progress so far, so please do fill in the questions below.
Do you think you'd like tenting your keyboard? *  Usually, a keyboard lies flat on the table. When tenting a keyboard, you rotate each half, with the thumbs moving up higher above your desk, and the pinky fingers closer to the desk. This is supposed to align your wrists closer to their natural resting position, at the cost of adding height to your keyboard.  Yes  Maybe  No    Which tenting options would you consider using? *   Bolts mounted to the sides of the case  A wedge underneath the keyboard, made from wood or 3D printed  A setup involving camera tripods or arms  I would not consider tenting at all    Would you be interested in purchasing a set of tenting pucks? *   Yes  Maybe  No    Do you have any questions about tenting you'd like to see answered?  If you have feedback on tenting or have feedback on my current prototype, feel free to share that here too!       Thank you!
Closing words
I'd like to especially thank the community for all their support in the past few weeks, and all the kind words I received. I'm dedicated to keep writing articles, designing keyboards and above all to keep shipping your orders, so I'm more than happy of the support that I receive as a one man shop.
As usual, thank you for reading this update, and be sure to join the Discord server for more updates, and follow splitkb.com on Instagram for pretty pictures. Want to receive these updates in your mailbox? Be sure to subscribe to the mailing list below.