This month truly did go by in a flash. It's been my busiest month yet, with many things in progress both for current and for future projects. So, without further ado, this month's update!
Product updates
First, product updates. The Corne LP Group Buy started on the first of June, and ended on the 30th. The Corne is popular, but low profile switches still are a bit of a niche—all in all it did pretty well. The targeted release date is September 2020, so let's work to make that happen!
The new low profile Elite C revision 4 has been released, and has received an overwhelming number of preorders. I'm still catching up on the order queue because of it, so if you haven't received your order yet, it's because it's taking me more time to pack all the boxes than I expected. The braided blue and red TRRS cables have finally arrived as well this month, with most orders containing those having shipped out already as well.
Of course, there's also some less positive news: due to a surge in orders, I ran out of the brass screws needed to kit plate cases with. The good part is that I found an alternative supplier, and will be getting fresh screws within the first half of this month. It'll take me some time to kit and cut all the cases, but expect them to ship out this month. High profile cases are unaffected and will be packed as I move along the order queue.
The MBK Group Buy has finished production, and is now being shipped to the designers, who will count the caps and ship bags of them to the various vendors. Due to COVID, there's no shipping estimate available, so it may take some time still for them to arrive and then for me to kit them out for you. I'll keep you updated through these monthly blog posts and on the #mbk-choc-keycaps channel on my Discord server. I've stopped sales for the time being as I sold out of the black 1u keycaps: it will reopen to sell the extras after counting all the leftover caps.
Matte Encoder Knobs, oh… it's becoming quite the saga! I've emailed everyone who preordered this knob with the current status and the options. Since I'm having production issues, I felt I should keep everyone updated on the news. You're not able to order this knob anymore until I have them in my hands, as to prevent more waiting for new customers—there'll be enough knobs for everyone once they do get made. I'm discussing options with the manufacturer, and aim to get the knobs within the next three to four months. If you've preordered this knob, replied to my mail but haven't received an answer yet, please sit tight for a little while longer while I work my way through all the answers.
And, hidden in this last paragraph: the Zima also finally finished production. There've been a few very avid supporters who preordered this tiny macro pad. It's still too soon to release it in the wild, but these people should get a shipping confirmation soon now. Look out for an announcement this month where you'll learn about this fancy credit-card sized macro pad for real!
Shipping
You'd almost think COVID has returned to manageable levels again, but that doesn't quite seem to be the case for many countries. I've written an article about this, called What impact does COVID-19 have on shipping?, which intends to answer exactly that question for orders at splitkb.com. If your country is listed on the page in the article, I may experience issues shipping to your country, of which possible solutions are also listed in the article: upgrade your shipping to DHL Express, hold your order, or refund it.
Due to COVID, my shipping carrier DHL has more trouble finding flights to put packages on. Along with other risen costs, this means my shipping rates will rise from the start of August until the end of the year. How much this price hike will be is yet unknown, as this news has only surfaced to me this week. Current orders will not be affected by this shipping cost increase, as I'll take the costs for that for my own account, but future orders may have to pay for increased shipping rates.
Moving out
It's now splitkb.com's tenth month in business, which is actually quite a lot longer than I expected! I'm still working from a room that measures only eight square meters in size, which has become rather a pain: I don't have the proper room to stock enough products, work efficiently on the laser, or pack a lot of boxes in one sitting. So, what was planned to be done by the start of next year, has actually been pulled forward by quite a bit: splitkb.com will be moving to a dedicated office space!
I've already done a lot of legwork needed to make for a smooth move, though there'll still be a bit of a rough transition period later this month while I wait for furniture to come in. For the time being, I'll clear out the order queue for as much as I can before I have to pack my inventory and move over to the new place.
Getting a new space will allow me to work much more efficiently, will allow me to stock more components and keyboards, and perhaps most importantly it will enable me to hire someone to help me pack your orders, count screws and kit the Kyria kits and more. I'm very much looking forward to this, as all this means I'll get more time to spend on other things, such as clearing the queue for the custom built Kyrias, designing new keyboards and cases, writing more guides and overall making sure operations will run more smoothly. I can't wait!
Community highlights
People in the community make cool things each month, and I figured it would be nice to use these updates to give credit for the hard work they put in, and for you to enjoy it at the same time.
There's a new 3D-printable case for the Kyria by Druz320. Taking inspiration from Coumbaya's Corne Case, this case allows you to take a the plate of a Kyria Plate Case and replace the backplate with this 3D-printed beauty. I especially love how he worked with the color changes, it gives the keyboard a super cool vibe!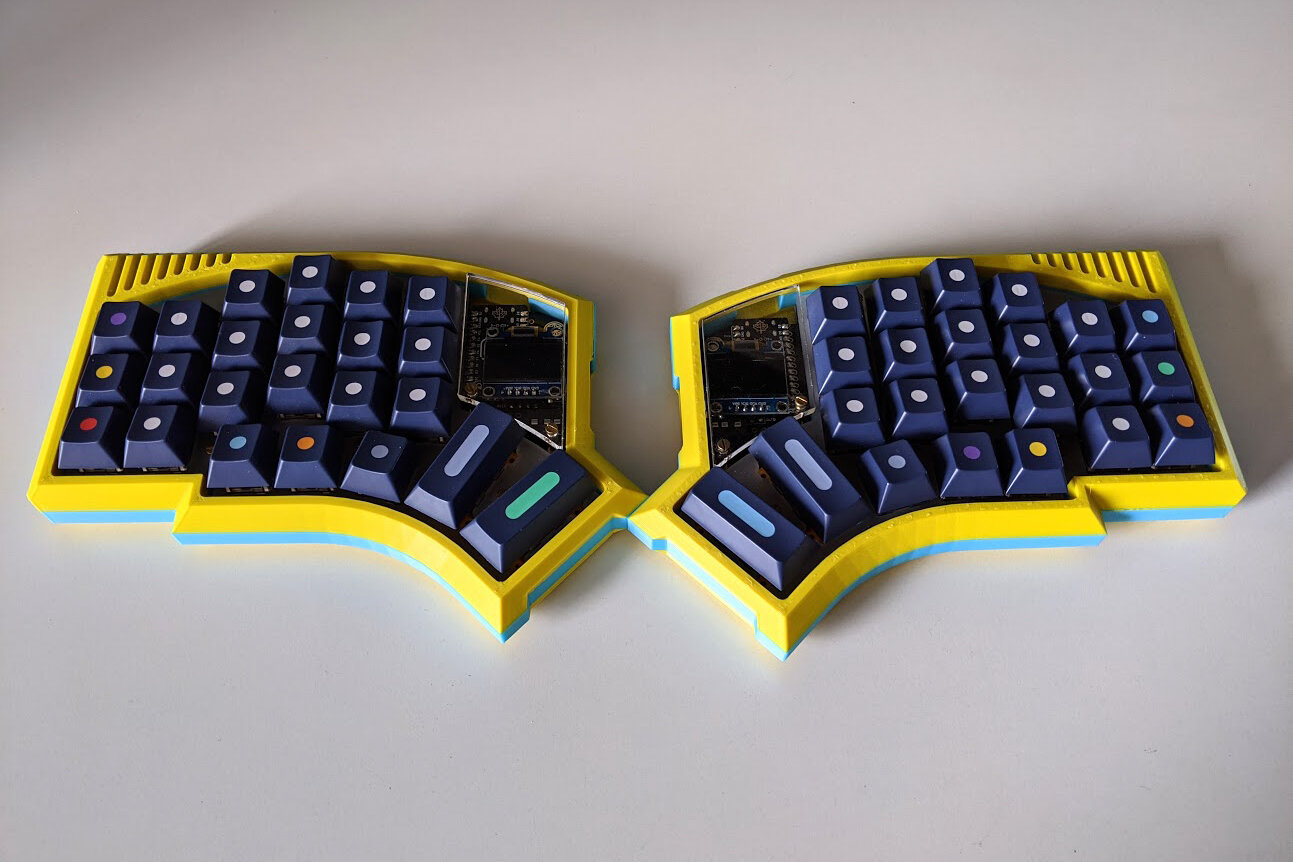 In the technical department, several people came together and formed something bigger than the sum of its parts. Based on brickbots' work on the WPM counter, and work by several people on animated images on the OLED displays, James Incandenza made an animated counter where the famous bongocat bongos faster when you type faster. How cool is that?!
New products
Sike! There are no new products this month, I've just been too busy with other things! However, this next month will get some news, as I'm aiming to release the Lily58 KB for real this time, and also the Zima macropad.
I'm working on a new solution to tenting your keyboard that's not comprised of the rather hefty M6 bolts. I'm hoping to have some prototypes ready of this by the end of the month, so that I'll be able to incorporate this feature into the Kyria Plus as well. Cool stuff!
Kyria Plus development
Kyria Plus, Kyria Plus… Wait, wasn't it Kyria+? Turns out that a + sign is used as an operator in search engines, and so I thought that it wouldn't really return any useable results when you'd compare it to searching for just the Kyria. So, a preemptive name change to not run into that trouble later on: it's now the Kyria Plus! It's the same name, but then written out.
To recap: the Kyria Plus will be an entirely new and additional revision to the Kyria. The Kyria itself will continue to be sold, so it's no replacement. The main big differentiator for the Kyria Plus is that it'll have a number row, but there will also be many under-the-hood upgrades.
Because of my goal of having the Kyria Plus come assembled with hot swap sockets, so that you won't have to solder the kit means that the start up costs will be rather high, I'm aiming to release the first batch of the Kyria Plus as a group buy, after which I'll try to keep it stocked indefinitely. Getting in at the group buy stage will allow you to be sure to get one, and I'm seeing if I can work in some additional perks to make it worth the wait even more. Here's the timeline I have in mind at the moment:
Prototypes finished: August
Group buy open: September 1st
Group buy close: September 30th
Production finish: November
Shipped: Early December, aiming to get it to you before Christmas!
If you want to keep up to date on Kyria Plus development, I definitely recommend scrolling down below a bit to subscribe to the newsletter. That'll be one of the places I'll post updates like this one.
Rounding up
Thank you for reading this month's update! See you at the next update, and feel free to drop by and chat on Discord!