Before you know it, it's time for the next update, so here we go! This month, there's been a lot going on behind the scene. I've filled most orders that contained custom cases, and made some way to get the custom Kyrias done. There are still many builds to go, and admittedly it's going at a much slower pace than I anticipated. Thankfully there are fewer people waiting on their order every day as I work my way through the queue, which is a good thing to work for!
I haven't been able to fit some focused time in on Kyria+ development. I'm still aiming to get the design done and the product delivered before Christmas this year, and of course hopefully sooner. I can't wait to share more of my ideas with you, but unfortunately I'll have to!
What else happened this month? In this update you'll read about:
Status updates on currently out of stock products;
The Corne LP Group Buy (a low profile CNC machined case for the Corne);
The new Low Profile Elite C;
New SA and DSA keycaps for the Kyria from Signature Plastics;
A new shipping carrier (DHL) and accompanying adjusted rates, and last but not least:
Environmentally friendly packaging.
Product Delays
Let's get the other not-so-fun stuff out of the way first: delays. Unfortunately, COVID-19 isn't quite done rampaging around yet, and while the humanitary effects cannot be understated, it ultimately does have an effect on preorders too.
The Braided TRRS Cables are still floating around somewhere. According to the tracking information, these should have arrived in the Netherlands on the 24th of May, but I've yet to see it turn up. If the tracking information is accurate, this would mean that I'm likely able to fulfill current orders containing these TRRS cables and offer them for sale again this month. As in the last update, please send me an email if your order contains one of these braided cables and you'd like to swap it out for the Metal TRRS Cable.
There's more news on the Matte Encoder Knobs. The manufacturer purchased new tooling to get a nicer surface finish, and the samples finally looked good enough to pass. Some of the knobs have been sent to an anodizer to get samples of the anodized surface finish in both matte silver and matte black, and when those are final, the entire batch can be anodized and shipped to me. It looks like the initial 2-week lead time is turning into a 5-month lead time now, which is something I hadn't expected at all given the manufacturer's optimistic estimates, but it does look like it's coming to an end.
We're nearing the end of the second quarter of 2020, which is when the MBK Choc Keycaps should be delivered for me to kit and then sent to you. Some samples have been rejected by the designer, requiring rework by the manufacturer. This back and forth has taken slightly more time than anticipated. The designer is currently awaiting what he hopes will be the final round of samples, and then production can start. Meeting the expected delivery date of Q2 2020 will prove to be quite a challenge, so expect some delays here, especially since I need to sort all the keycaps into kits by hand once I get them.
Finally, the Kyria PCB Kit and the Corne PCB Kit are currently being restocked. If you placed an order containing these kits, you can expect it to ship soon. Thank you for your patience!
Furthermore, there's good news and bad news: I've shipped out all of the orders containing Elite Cs, and the Elite Cs have been sold out. Some more good news: there will be a new low profile Elite C available, as soon as this month. It's available for preorder now.
Whew. With that out of the way, let's carry on with some exciting announcements!
Corne LP Group Buy
A new vendor has entered the game: Boardsource.xyz! They're based in the United States, and are launching with a new case for the Corne keyboard, called the Corne LP. I'm happy to announce that I'll be the proxy for this case for Europe.
The Corne LP is a premium yet affordable option for those who like both the Corne and low profile Choc switches. Have a look at the options:
An aluminium milled case is available in both silver and black;
The Corne Low Profile PCB kit will come in white and black, and supports hot swap;
You can get white Kailh legended keycaps (which will let the RGB per-key backlight shine through), or opaque black or white MBK low profile keycaps.
A complete kit including the case, PCB, microcontrollers, switches, Kailh keycaps and a TRRS cable will come in at €156.98 excluding taxes or €189.95 including taxes, which means you'll get the complete package. Different upgrades are available, like using the new low profile Elite Cs instead of the included Pro Micros, or getting MBK Low Profile Keycaps instead of the legended Kailh keycaps.
The case should be compatible with OLED windows too, though what with the low profile character that might not entirely fit the aesthetic. OLED displays and guards are available in both clear and dark transparant acrylic as an additional upgrade, with additional spacers provided to be able to use a lower guard without the display.
Get the Corne LP at splitkb.com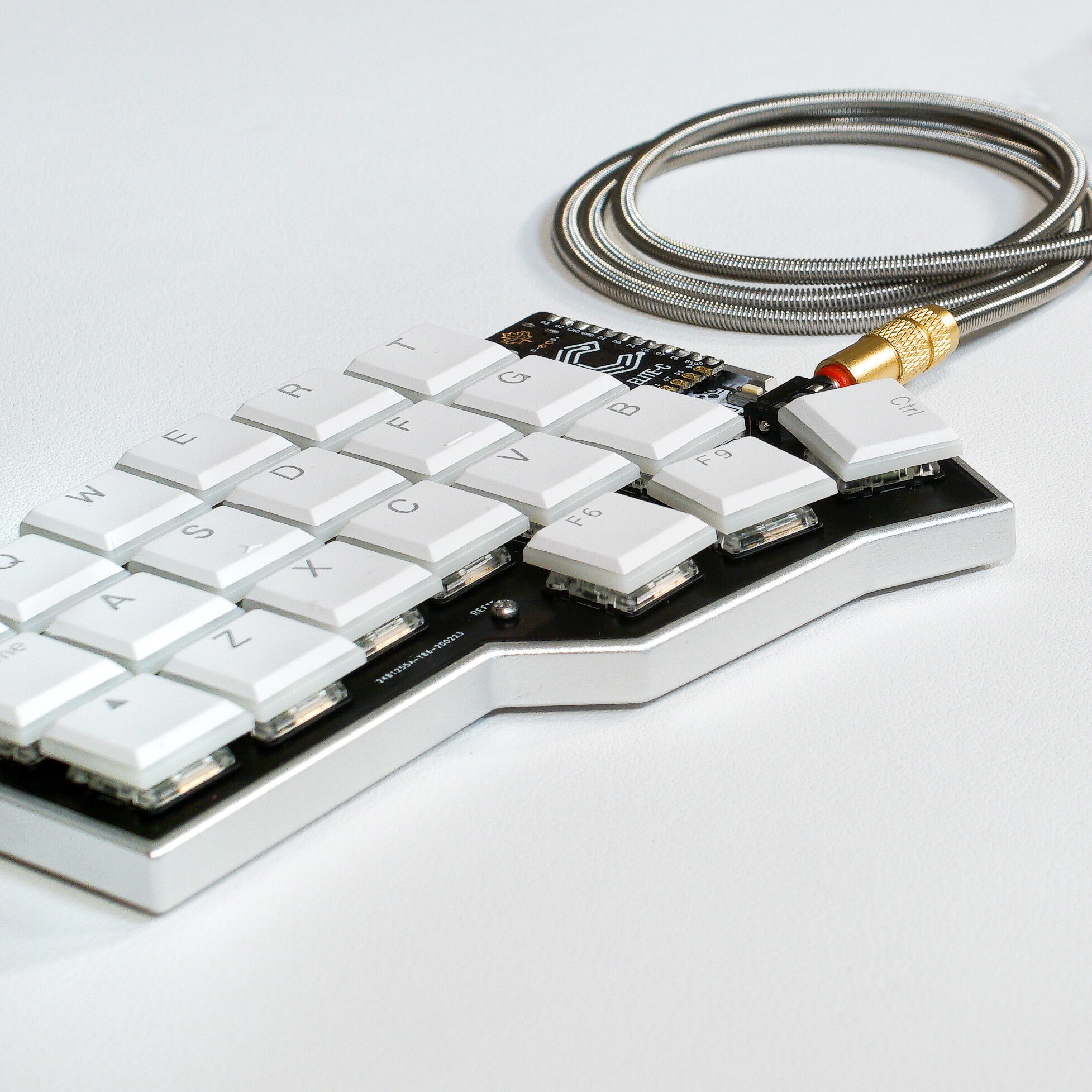 Low Profile Elite C
And now some news about the new Elite C! What changed, and why do you need one?
The new Elite C now comes with a mid-mounted USB C port. Much of the height of the previous Elite C was caused by this port, and even though the actual PCB was only 0.8mm thick last time around, the height of the port still made it slightly taller than a Pro Micro with its slim micro USB port. With the mid-mount USB C port, however, the overall height of this microcontroller is reduced by 1.2mm, saving 25% of the overall height. This is especially useful on keyboard kits with bottom-mounted microcontrollers like the ErgoDash and the ErgoDash Mini.
To account for the lower height, it now also comes with a lower on board reset button. This revision comes with a once more altered power LED, which is now is a dimmer blue, which should interfere less with any on board underglow or backlighting. Last but not least, the VUSB pin is broken out, which is the power line normally received through USB. This may allow for some nifty modding, like adding a battery pack and a bluetooth breakout board. Not for the faint of heart, but now you can at least do it with the Elite C!
Many of the other reasons why you'd want to choose an Elite C over the Pro Micro still apply. And you can of course still use the Elite C together with a Pro Micro on the other side. I'm looking forward to seeing the builds you create with this new piece of kit!
New Products
With this post, I'm introducing five new keycap sets, made specifically for the Kyria. They're all manufactured by Signature Plastics within the United States. Most keycap sets are in limited stock, while the DSA black keycaps will be stocked more long-term.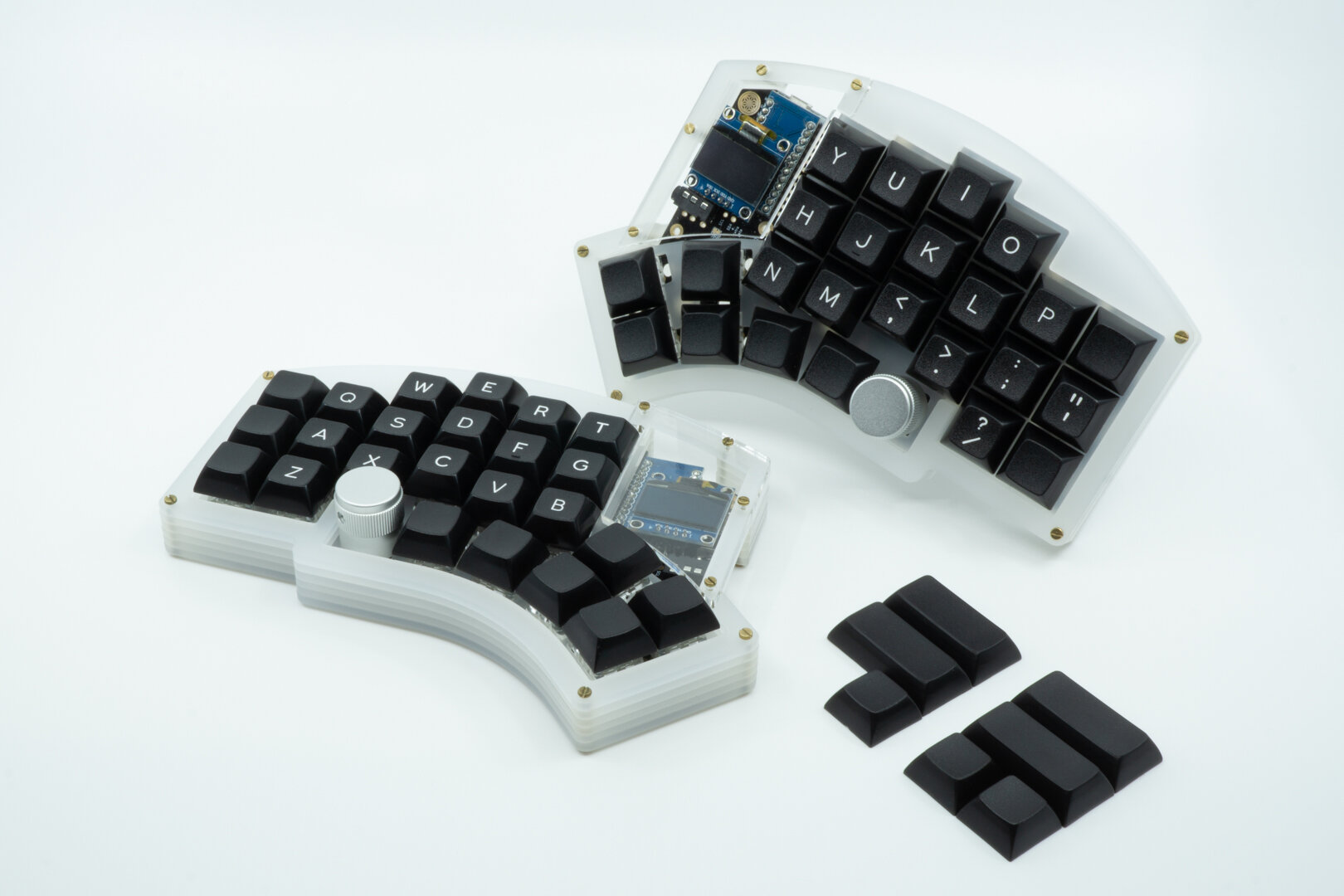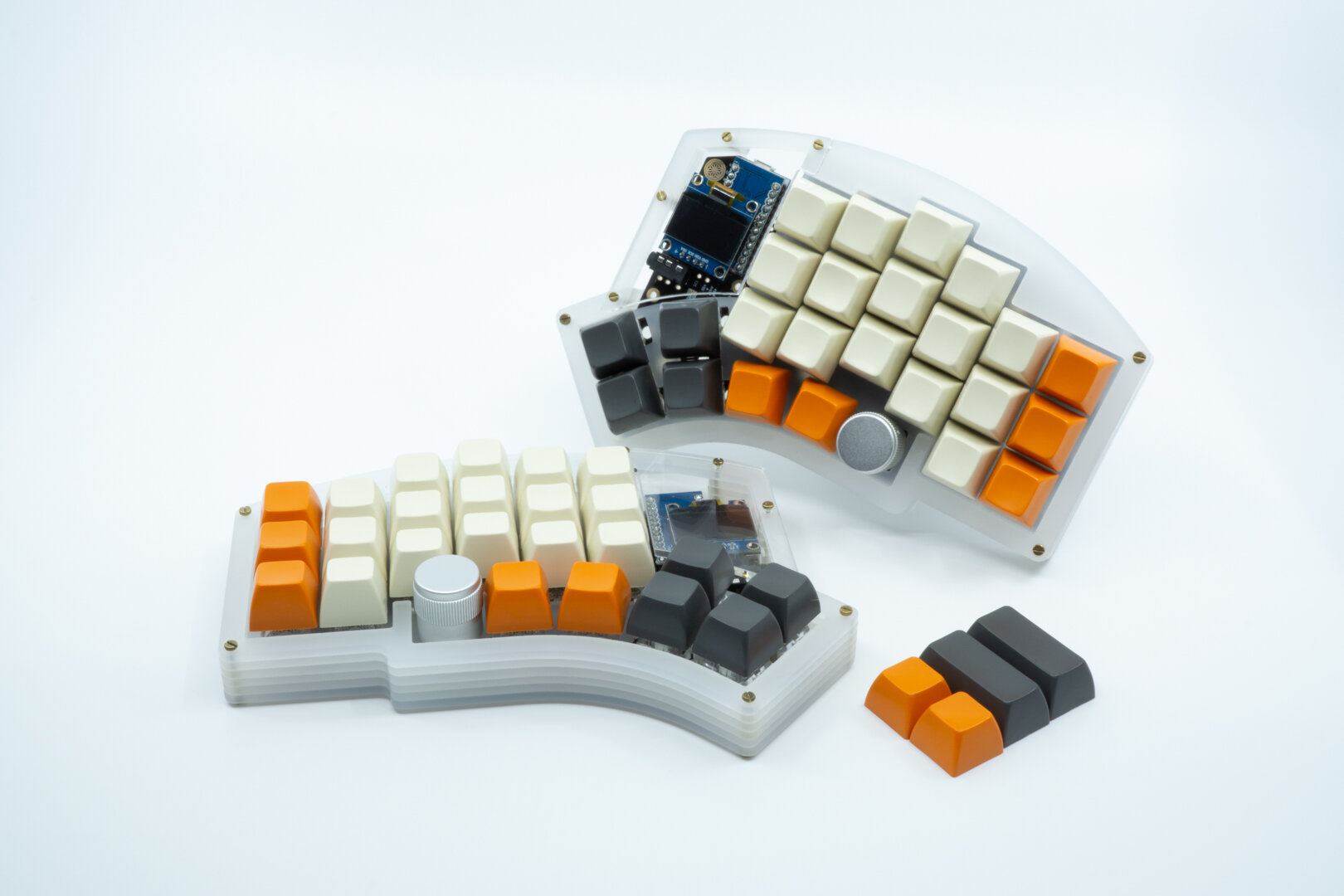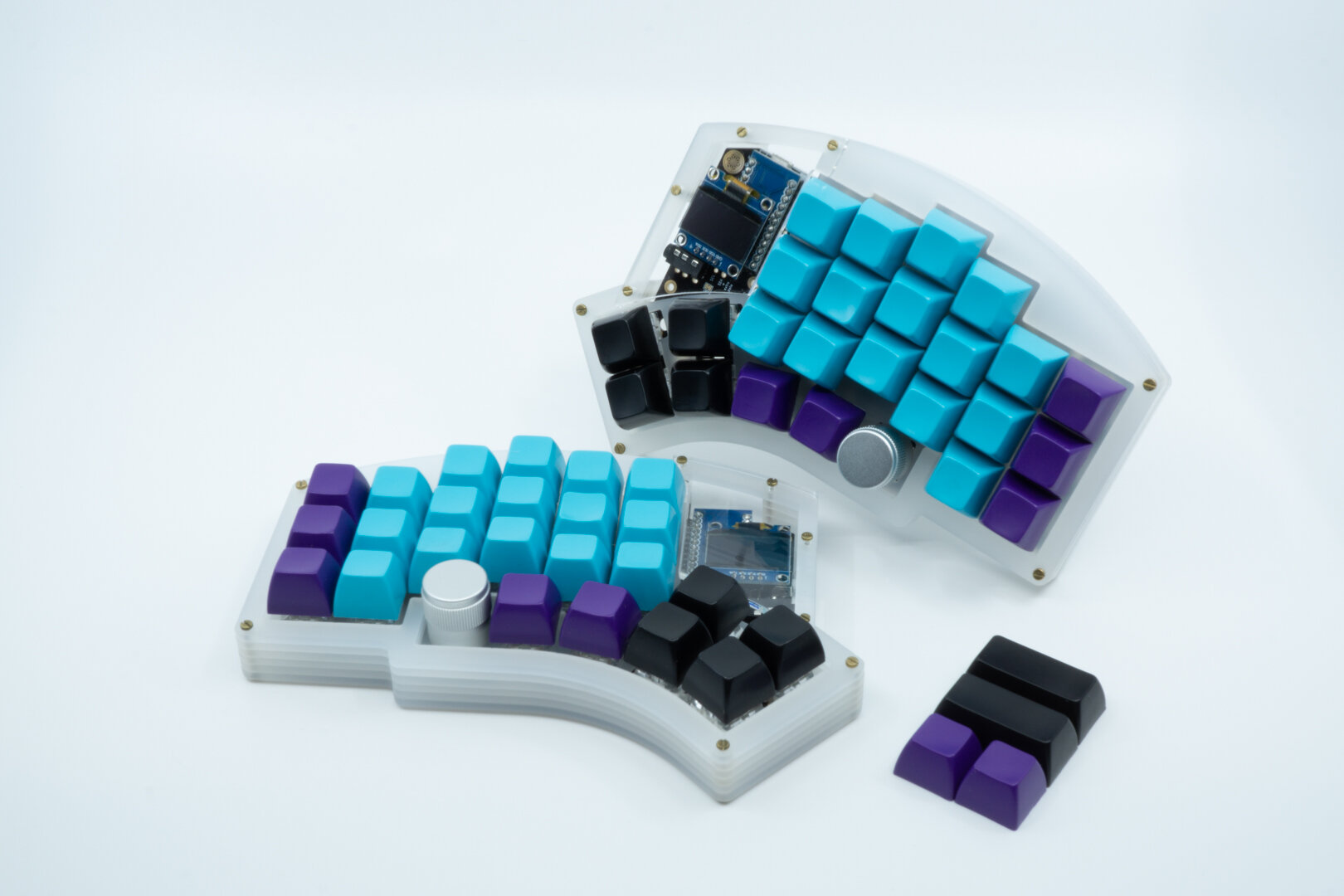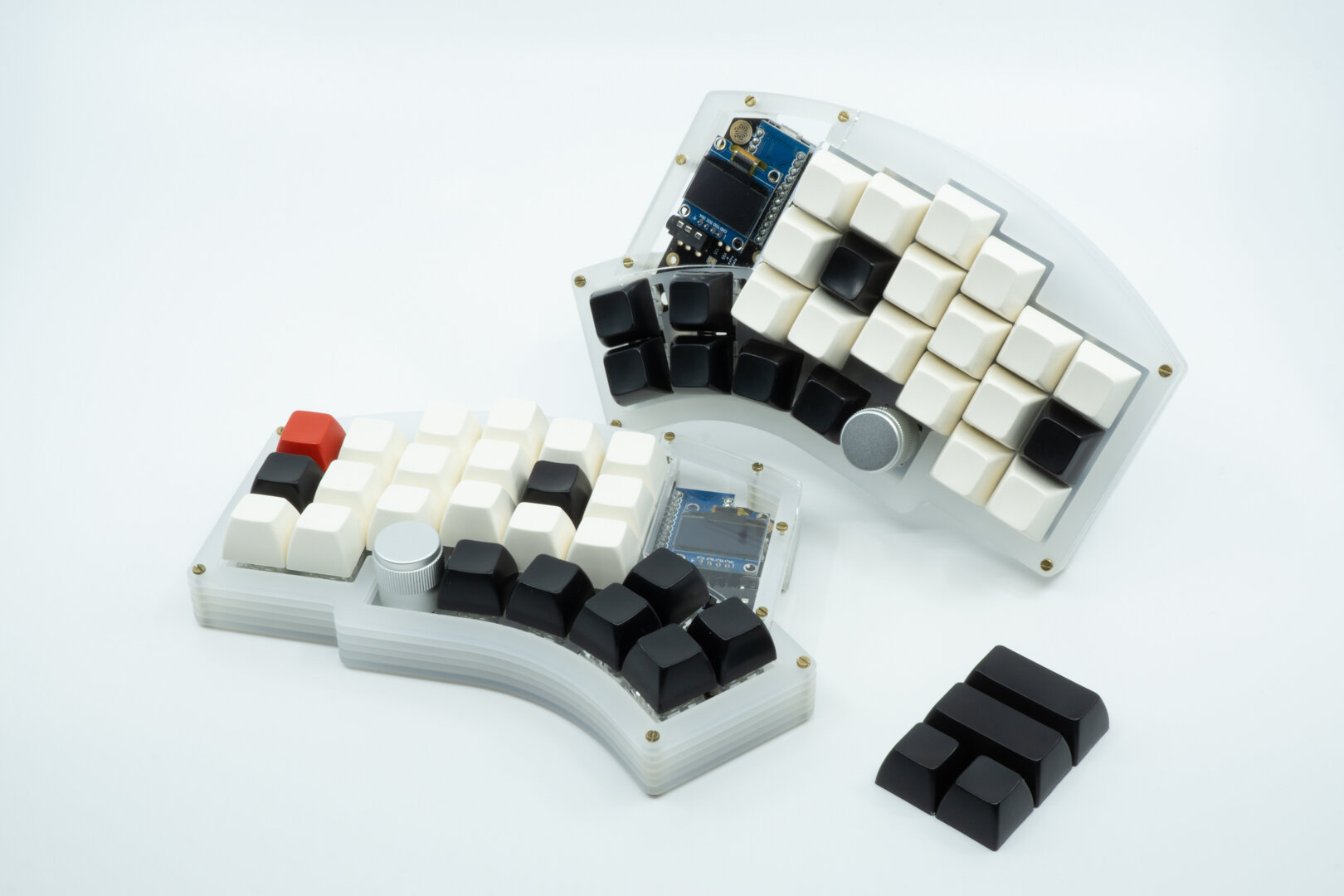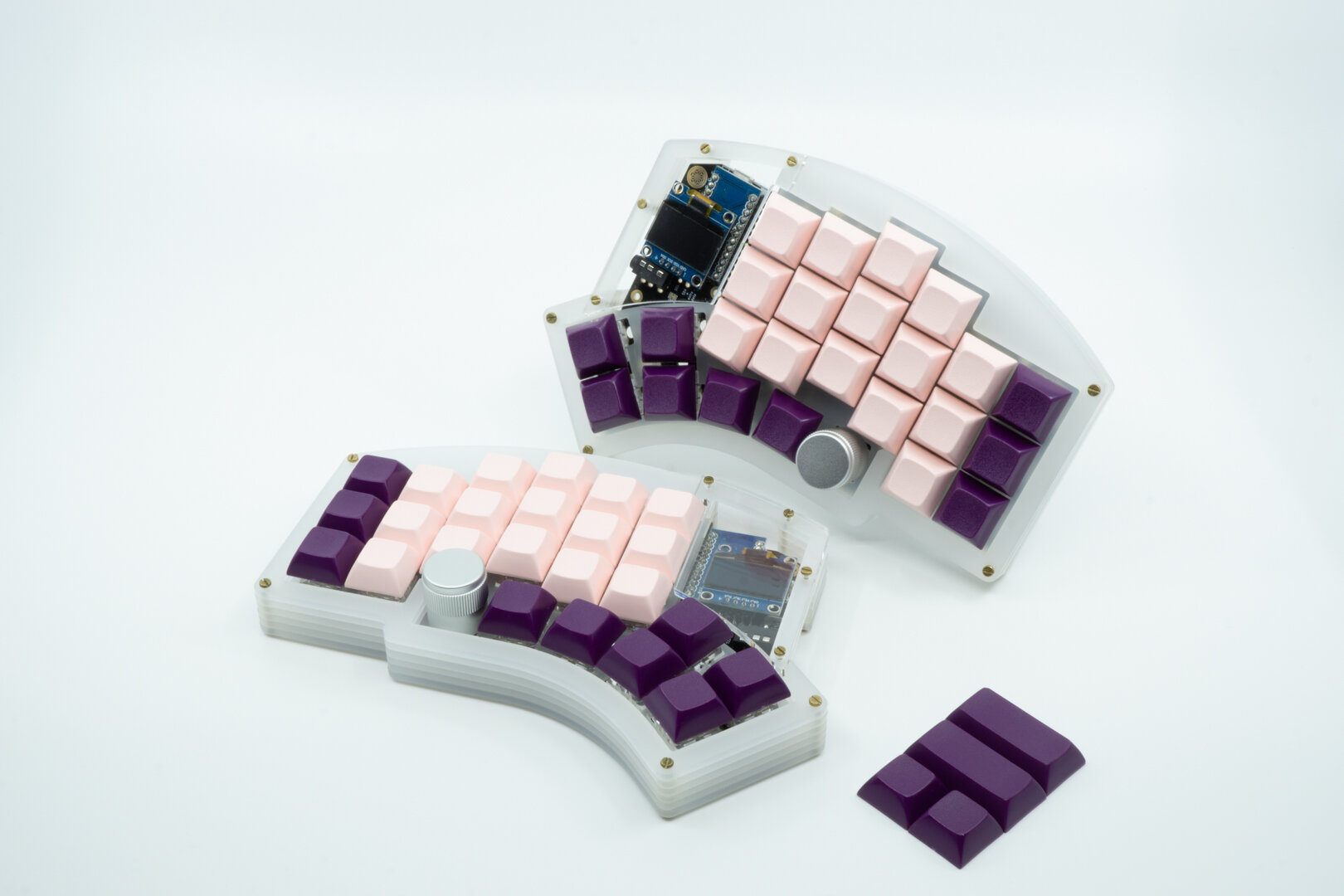 Which products would you like to see on splitkb.com?        Thank you!
New Shipping Carrier and Rates
Since the start of splitkb, I've been shipping with the Dutch domestic carrier PostNL. They cooperate with each country's national carrier to ship packages globally. Especially once I got my corporate contract with them, shipping became more affordable. But in the past months, international shipping performance dropped drastically. While COVID-19 may have played a large role in that performance, it still became bad enough that I received many complaints from customers, having shipping times to the US grow over six weeks.
In light of that, I've now changed to DHL. With them, I now offer four shipping methods:
DHL Express is the premium option. It utilizes DHL's own international network, making it the most reliable option. With this, shipments within Europe arrive within just one working day, while international shipments arrive within two to four working days. While this is the most costly option, you do get what you pay for: you'll get control over where and when your package gets delivered through MyDHL, which for example is handy when you're not at home but still want to collect your package at the post office on the same day.
DHL Globalmail Tracked makes use of the same international carrier network as PostNL does, but instead of dropping these packages off at the post office, they'll be shipped to a German distribution center through DHL Express. This option generally takes four to five working days within Europe, four to seven working days to the United States, seven to nine working days to Canada and Japan, and up to fourteen working days for the rest of the world.
DHL Globalmail Untracked is available for orders with a value below €50. This is a slightly cheaper option than Tracked, but shared the same properties with two caveats: you cannot track the shipments, and they cannot be investigated when they're taking longer than expected or are lost. I generally recommend to go for the tracked option for added peace of mind and reliability.
PostNL Tracked is available for Dutch customers only. They remain the most economic and dependable option within the Netherlands.
Next to that, shipping rates are now adjusted per shipping zone, meaning that the rates now fit much closer to the cost I actually have to pay to get things to you. This means that people in some far-away countries now have to pay more for shipping, while people in nearby countries will have to pay less. As an example: if you ship a package with track and trace to the United Kingdom, you'll pay €8.95, while a tracked package to the United States would cost €13.25. The same shipped with DHL Express would cost €19.95 to the UK and €29.95 to the US. You'll be able to check your shipping costs at the bottom of the cart page, so there's no need to enter your entire address info first.
Environmentally Friendly Packaging
I've started shipping out quite a few boxes over the past few months. This lead me to look up some specifications on the packaging which I currently use:
The cardboard boxes I ship with are made of 70% recycled cardboard.
When shipping internationally I affix the invoice to the outside of the package. When an invoice fits on one piece of paper I'm able to use 100% recyclable paper document windows, meaning it can be left on the box and recycled with the rest easily. I still use polyethylene document windows for larger invoices - I already had them, and it makes no sense to waste it by binning them.
I switched to paper tape a while ago, which is fully biodegradable and can be recycled along with the cardboard box.
Packaging material is made out of plastic. 99% of the space is filled with air, while 1% is filled with recyclable polyethylene.
The bags the various kits and components ship in are made of recyclable polyethylene.
I've started using lighter weight boxes for lighter shipments, which saves a lot of cardboard and volume. There are still some steps to take toward more eco-friendly packaging, but I think I can be happy about where I currently stand. Next steps will be looking at shipping carbon-neutral (probably by means of offsetting it by planting trees) and replacing more packaging with recycled equivalents.
Which would you prefer?   I'd prefer an environmentally friendly shipping option even if it would cost more  I'd prefer to pay less for shipping even if it means less environmentally friendly packaging and shipping      Thank you!
Wrapping up
Thank you for reading yet another update. This month will see continued work on shipping current custom Kyrias out, and will hopefully see the return of some of the delayed products. See you at the next update, and feel free to drop by and chat on Discord!