Hello and welcome to the second update! It's been one month since the last, and on the surface it looks like little happened. In this update I'll share some of the things I've been doing on the background.
Impact of the Corona virus
It's on the news every day now, and unfortunately it affects almost anyone one way or the other: COVID-19. Factories have been closed and are only just recently starting to recover. With weeks of backed up orders, it'll take quite some time before orders will start being produced and shipped again.
This has an impact on many vendors, including me. I've received many questions about restocks of certain items. The Elite C, TRRS cables, my custom matte encoder knobs and now also PCB kits are sold out or about to be sold out.
I've worked hard to divert production to Europe where possible, but negotiations take time, and I'm not the only vendor looking around, meaning we're also dealing with queue times. For some items like PCBs and cables, having them produced locally would inflate the cost (and thus the price) many times over.
At the moment, I'm waiting for several orders of my own to be shipped to me. I've decided to open up limited preorders up to the amount of items I've purchased. These will drip in through March and April (though hopefully everything will get in by March).
Many small steps make a big leap
Next to fulfilling orders, I need to take steps to advance splitkb.com. These steps often don't take much time by themselves, but they do add up. I think it's important to take note of these steps to acknowledge that they indeed take time but do lead to results.
Laser cutter
So far, I've been cutting custom cases myself on the laser cutter of a local makerspace, and handing most of the Kyria plates out to an external laser cutting service. This has several drawbacks for me:
Using the cutter at the makerspace has to take place on scheduled times, making me inflexible and making for long lead times, especially if I can't cut everything I want in one go, or if a cut goes wrong due to settings or machine wear. I also don't have any of my own tools at the makerspace, so I can't assemble custom keyboards or pack orders while I work there, wasting valuable time.
Using the cutter at the makerspace and using the cutting service cost money. Especially for small custom work, like cutting a high profile Kyria case in a custom colour, these costs are quite considerable.
With my own laser cutter, I of course still have to deal with costs and maintenance, but it'll be fully under my control. This will allow me to get a much faster turnaround that depends only on the delivery of the raw materials and my availability.
To get a proper laser cutter cost me quite a bit more time than I estimated. I went to see the machines for myself at Trotec and Epilog, cut several samples, worked with the software and learned about maintenance and its costs. I negotiated pricing and options and arranged financing. The final call hasn't been made just yet, but I'm hopeful that I'll soon be able to perform custom jobs more easily and expand the product options considerably. Stay tuned for more information on product offerings!
Packaging
Packages go all around the world. There are some horror stories of packages being thrown, smashed and crushed. While maybe overstated, I've had several packages arrive damaged, which is especially worrisome when shipping out custom assembled Kyrias.
Upgraded boxes
I've upgraded my boxes to use double walled cardboard, making them much less prone to being dented or ripped. They're also larger, to accomodate for the new air pillows I use for padding instead of wrapping paper. I'm now also experimenting with water activated tape to seal the boxes shut more effectively. All in all, these small changes should add up to your keyboards and other items being shipped to you much more reliably.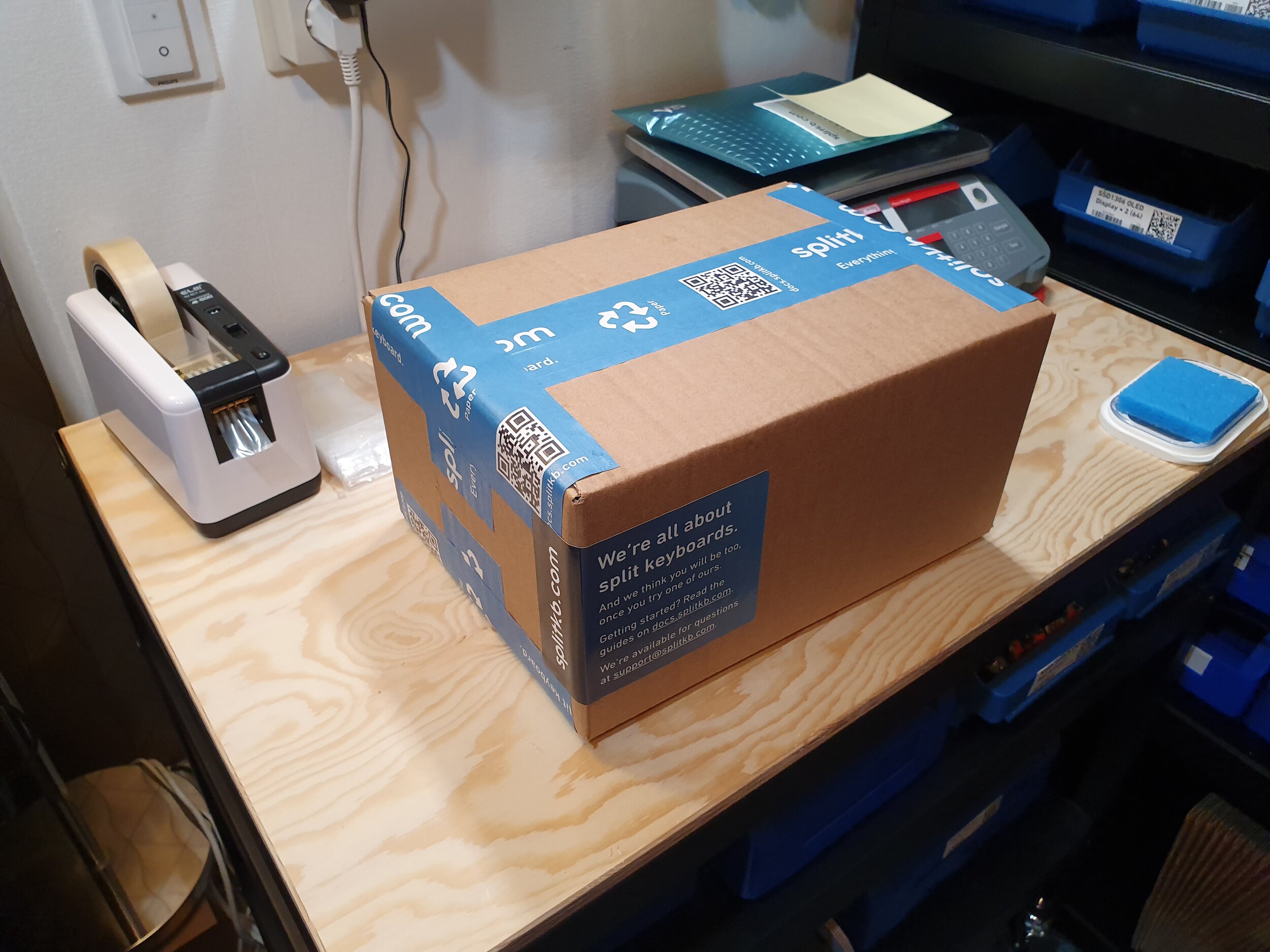 Route+ shipping insurance
Handling lost, stolen or damaged packages is often a pain. Filing a claim with a shipping carrier can take up to two months to resolve, and the process isn't transparant, so it's hard to know what you can expect.
I have added the option to add Route+ shipping insurance to your order at checkout. It is opt-in, so it's your choice whether to add it or not. For a small fee, your order will have premium protection, where claims will be refunded or reordered within 24 hours. This should give you that extra bit of confidence when shopping should you decide to want that.
If you have any questions about the Route+ service, I've written a frequently asked questions page about it here: How can I use Route+ shipping insurance?
Other news
I used to have live chat available on splitkb.com and the documentation site. I found that it was used far less often than I expected, while it did require me to respond quickly should a message arrive. This was keeping me on my toes and I wasn't always able to respond in time. I decided to disable the chat. I'm of course still available through email and Discord.
I'll be getting a fume extraction system to help filter the fumes caused by soldering keyboards. I solder with leadless solder wire, which combined with the required higher temperature and low air flow in my room, causes me to breathe in toxic fumes. This in turn causes some difficulties breathing while and after soldering. If you just solder a Kyria kit (perhaps with an open window) it won't be so bad, but I have a queue of Kyrias to assemble and already start to notice some detrimental effects.
I have cancelled development on the Veda ortholinear keyboard, and refunded the preorders placed. I have too much on my plate as it is, and with the current demand being focussed on the Kyria and with many requests for a number row and other changes to the Kyria, I'd like to focus the limited time I have on improving that design first before embarking on a new trip.
I've introduced the Kyria on this blog, which was very well received on Reddit. I'm glad you all like it! As a result, many things are now sold out, which is both great (I sold things!) and not great (many things are now not in stock, though can be preordered).
New products
There are some new products on splitkb.com!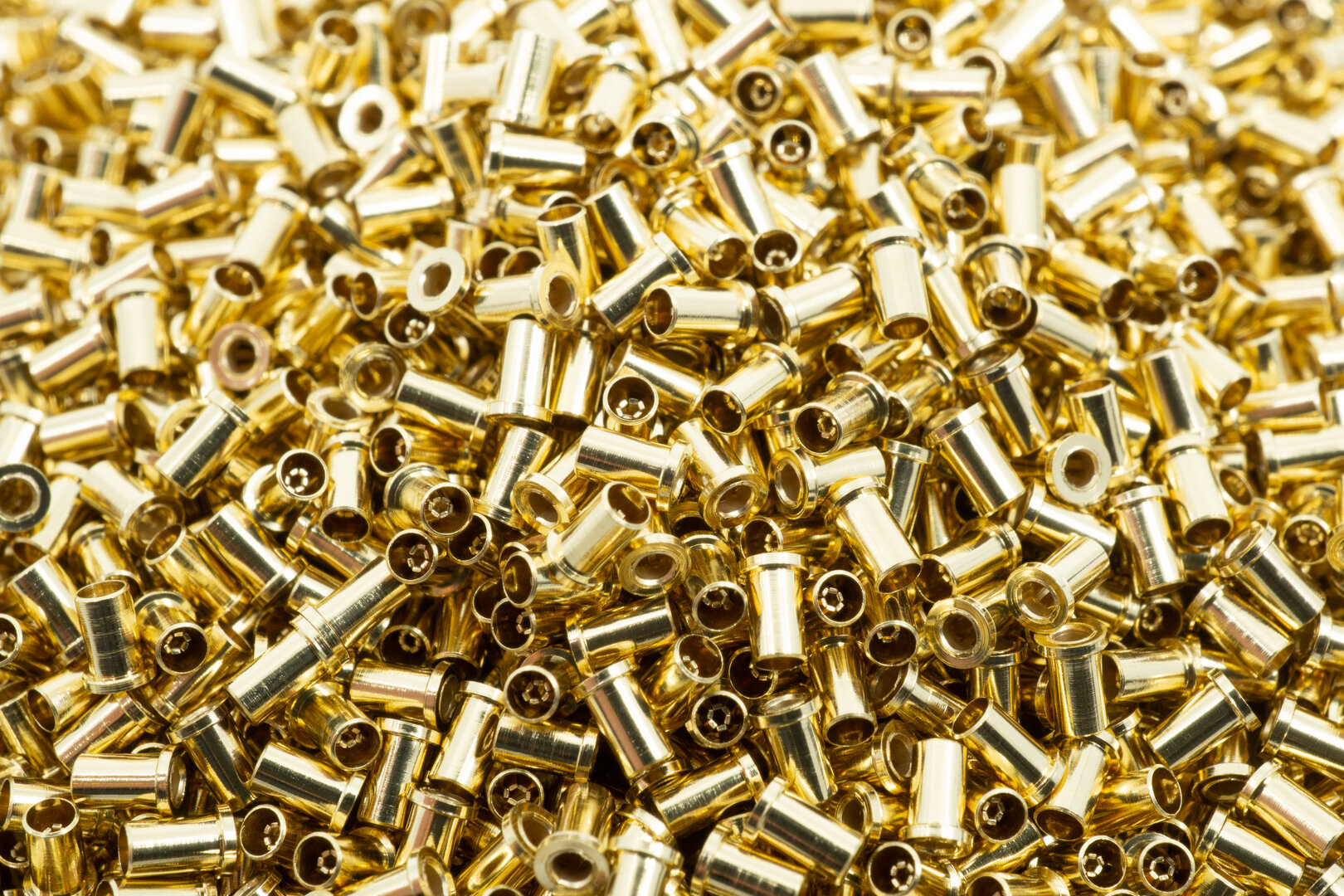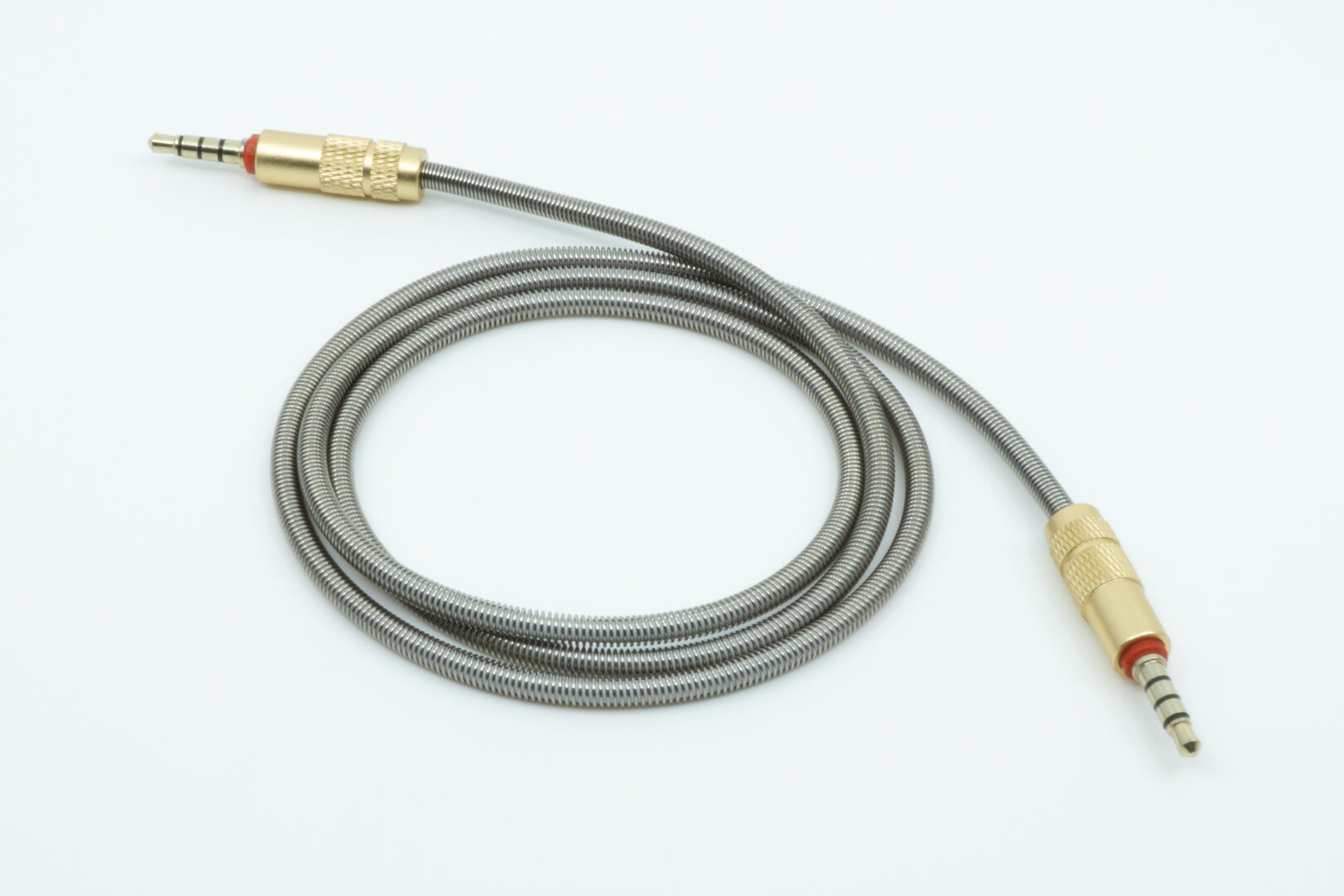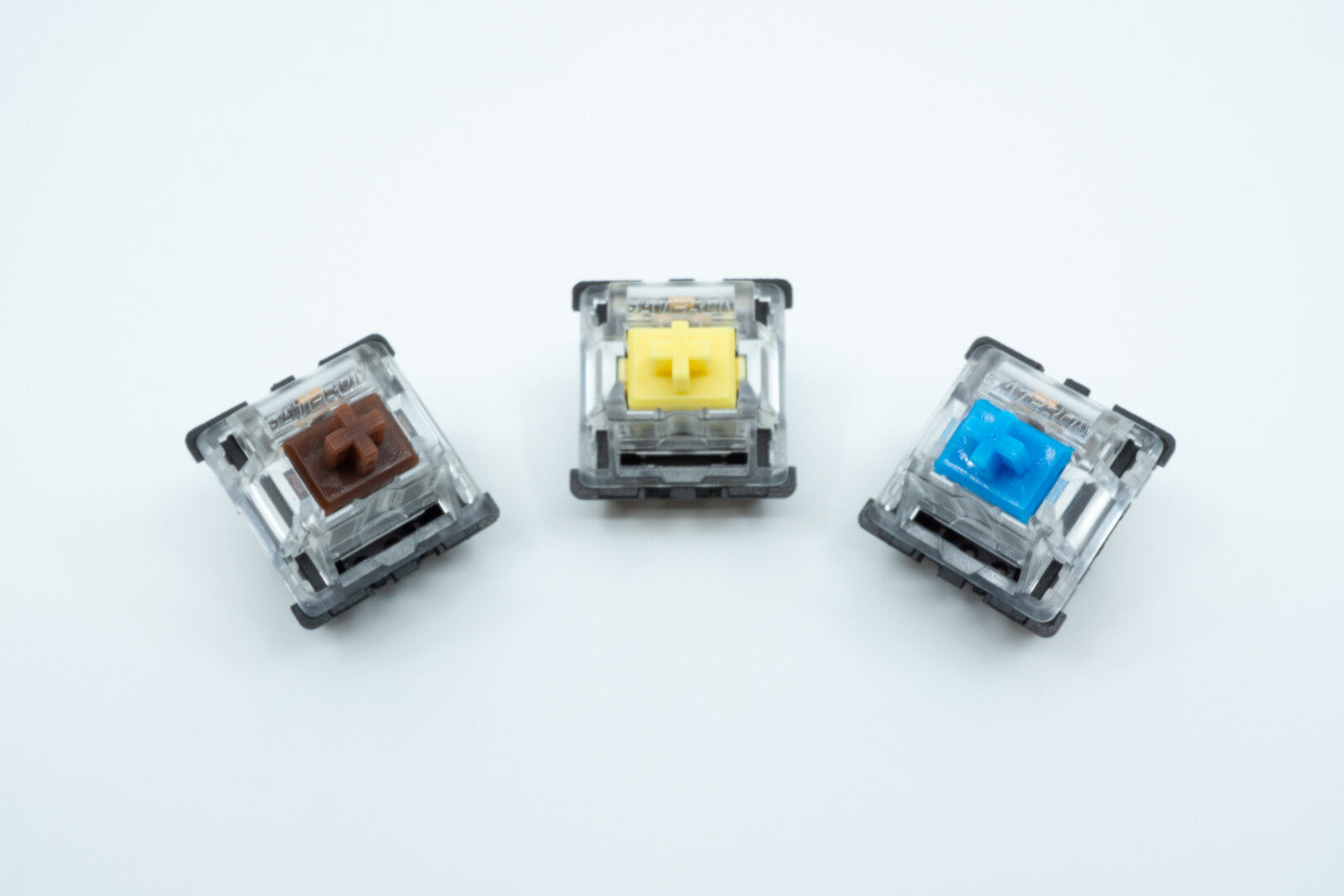 Order progress
While all talk so far was about new things, the main focus remains shipping out current orders and working on the custom Kyrias.
Normal orders
For the most part, if you've placed an order which wasn't for something custom or out of stock, it should've been shipped within three working days. Some orders took slightly longer, but no more than a week. While faster shipping is better, I'm happy with the performance so far what with all the other things on my plate.
Preorders
The MBK keycap group buy has concluded and the order with the manufacturer has been placed and paid for. I'll provide updates once I have concrete delivery dates for the keycaps, but the original estimate of Q2 2020 still stands.
There will be extras, so if you missed out, you can subscribe to email notifications on the MBK keycap product page. If you already got in the group buy but would like to get some extras with your order, you can send a mail.
Custom orders
Preorders for custom cases incurred (and still incur) delays due to a technical malfunction of the laser cutter at the makerspace. The laser head has been out of alignment, and having it fixed took time. As of this week, it's been fixed again, meaning I should be able to resume operations until I get a laser cutter of my own.
Assembling custom Kyria takes more time than I estimated. Between learning how to effectively solder Mill Max Hot Swap Sockets and having some issues with a batch of plate cases cut with the laser cutter at the makerspace while the head was out of alignment, troubleshooting and fixing issues takes up much valuable time, further delaying custom orders.
I have adjusted the expected lead time to up to five weeks to make it easier to meet expectations, while raising the prices to account for the time it takes to assemble a build.
The road ahead
Getting the custom Kyria orders out remains the most important until I get the queue down to manageable levels. Meanwhile, getting my own laser cutter will make delivery estimates more reliable, and will open up many custom options in the future like custom colors and engraving.
The Lily58 KB still needs work on the build guide and product pictures, and will be available for purchase after. This has a lower priority than current orders though, and so this may have to wait for longer than expected.
Thanks for reading all the way! You can join the Discord server to receive many more updates and to chat with me and other customers. See you next time!