In the February 2020 update, I already wrote a bit about the impact COVID-19, which is also known as the Corona virus. At that time, the virus was mostly impacting China, and with the impact on its industry it also had ripple effects worldwide. For splitkb.com, it meant that shipments to restock the store were taking far longer than expected.
A little more than two weeks later, many of those items have started shipping again. Production in China is still backlogged for certain items, but they're picking up tempo quickly, so I expect all items to have shipped by the end of the month, possibly being in stock again by that time.
While China has started to gain control over the situation, the spread is accelerating quickly in Europe. In the Netherlands, many public spaces have closed until the 6th of April, and might need to stay closed for longer depending on how the situation develops. This, unfortunately, also has side effects on splitkb.com and currently placed orders.
Among the public spaces that have closed down is the makerspace I use to cut acrylic cases. This means that my ability to cut custom cases will be restricted for the time being.
TLDR: Most issues should be resolved by the end of April, which is six weeks from now at the time of writing.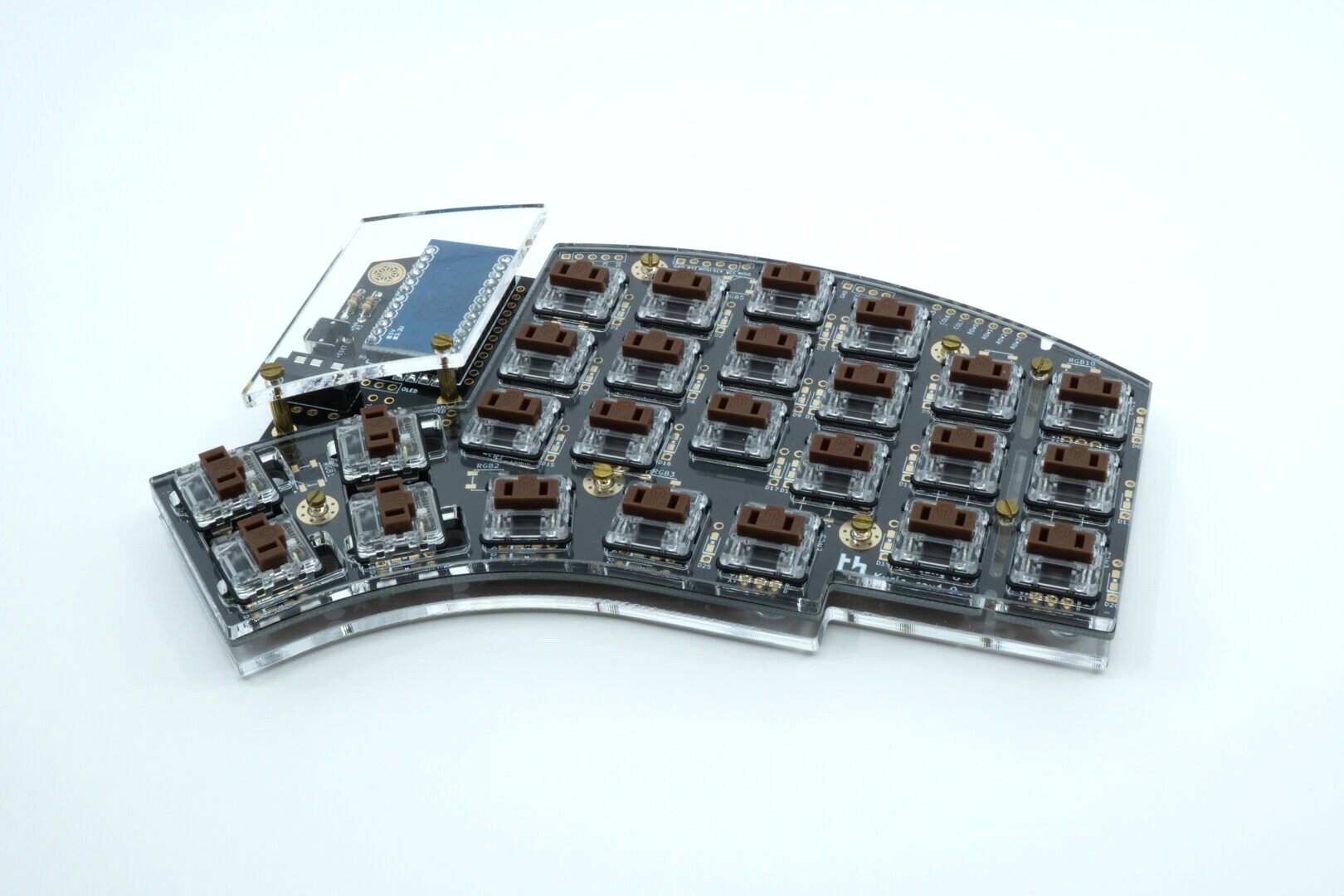 What does this mean for me?
You may have placed an order, or you may have been thinking about placing an order at splitkb.com. So what's the effect on that for you?
The estimates below have been updated on April 1st, 2020.
If you placed an order containing a Kyria PCB kit, it should have shipped now. New orders containing kits are shipping like usual.
If you placed an order containing an Elite-C, it will likely ship by mid April (this month). There have been some production delays, but they've since been shipped from the factory and I am waiting on them shipping to me.
If you placed an order containing a Matte Aluminium Encoder Knob, be it silver or black, it will start shipping by the end of April. There have been production issues regarding the surface finish, and I am working with the supplier to iron these issues out before you get them.
If you placed an order containing an acrylic case that isn't a clear or frosted plate case, your order will likely incur delays. This also includes orders for Built to Order Kyrias and custom acrylic cases discussed through mail or personal messages. These orders will likely ship by the end of April.
If you placed an order for the MBK Choc Low Profile Keycaps group buy, it is still on schedule to be delivered by Q2 2020. Extras will be available; you can click on the "Notify Me When Available" button to automatically receive an email when they're back in stock.
New: If you placed an order for a Braided TRRS Cable, your order will likely ship by the end of April. There have been issues with exporting the product from my supplier in China. If this is the only item your order hinges upon, you might consider swapping the cable out with the Metal TRRS cable, which is in stock at the moment.
Does your order contain multiple items from the list above? It will then ship by the latest date listed. If you have questions, please read more below.
What about acrylic cases?
I have plenty of acrylic plate cases in stock for the clear and frosted colors. However, I haven't cut many of the custom cases yet for Built to Order Kyrias, since I try to cut them close to finishing the builds themselves in order to save storage space. If your order contains a Kyria Acrylic High Profile Case, a Kyria Acrylic Plate Case in the color Midnight, or a custom case as discussed through email or personal message, it will be delayed.
The makerspace which I use for custom cases has closed until the 6th of April, though it may remain closed for longer depending on how the situation develops. I'll receive my own laser cutter halfway through April, which means I'll be able to cut cases in-house from then on. So if your order contains any of the cases listed above, it's likely that your order will ship by the end of April.
What about custom built Kyrias?
Even if your custom built Kyria order contains a case listed above, I'll still be able to prepare it for final assembly. This means that I'll be able to assemble every part except for the switches, until the cases are made. While it might still take long, preparing like this at least should shorten the time between cutting the case and shipping your Kyria.
Common questions about orders
If you're reading this, your order will likely be delayed. Here's what you'll want to know:
I will be moving soon, and I don't know if I'll live at the same address once my order ships. What can I do?
If you don't know what your shipping address will be by the time your order ships, please send me a mail to support@splitkb.com. I will add a note to your order and will send you an email once your order is ready. You'll then be able to verify your shipping address so that it'll arrive at the right place for sure.
Can you change or add to my order?
You can choose to go with a different case, or add or remove items for your order to ship to you more quickly. If you'd like that, please email support@splitkb.com and let me know which changes you'd like to make.
Can I cancel my order?
Your order will ship, even though it's delayed for now. If you'd like to cancel your order beforehand, though, you can. Please send a mail to support@splitkb.com along with your order number and I can issue you a refund. I still appreciate your business, though, so if I can help you with any questions, please do ask.
Next steps
We can only move forward. While social distancing and quarantines are starting to become more commonplace worldwide, there is still plenty of work to be done, so I'm not sitting still. Kits are being bundled, custom Kyrias are being prepared for final assembly steps, and work on the Kyria+ will start soon too. I hope to bring you some exciting news by the end of April!
Thank you for reading this update, and as always, feel free to join our Discord community, follow us on Instagram, and you're always welcome with questions at support@splitkb.com. See you next time!