Could it be true, the last month of 2020? Indeed! We haven't been sitting still, and for perhaps the first time, the use of "we" actually matches the size of the company, with Monique having officially started this month to help me kit and package your orders. She's learning the ropes and has been catching on quickly while I work hard to flatten out any issues during packing and shipping.
In this month's update:
The Lily58 KB kit is now for sale;
The Corne LP group buy is facing delays;
An interview with Thomas;
MBK Choc keycaps will come back in stock by early 2021;
The Kyria case files now support the tenting puck accessory;
Brexit may affect orders to Great Britain
New products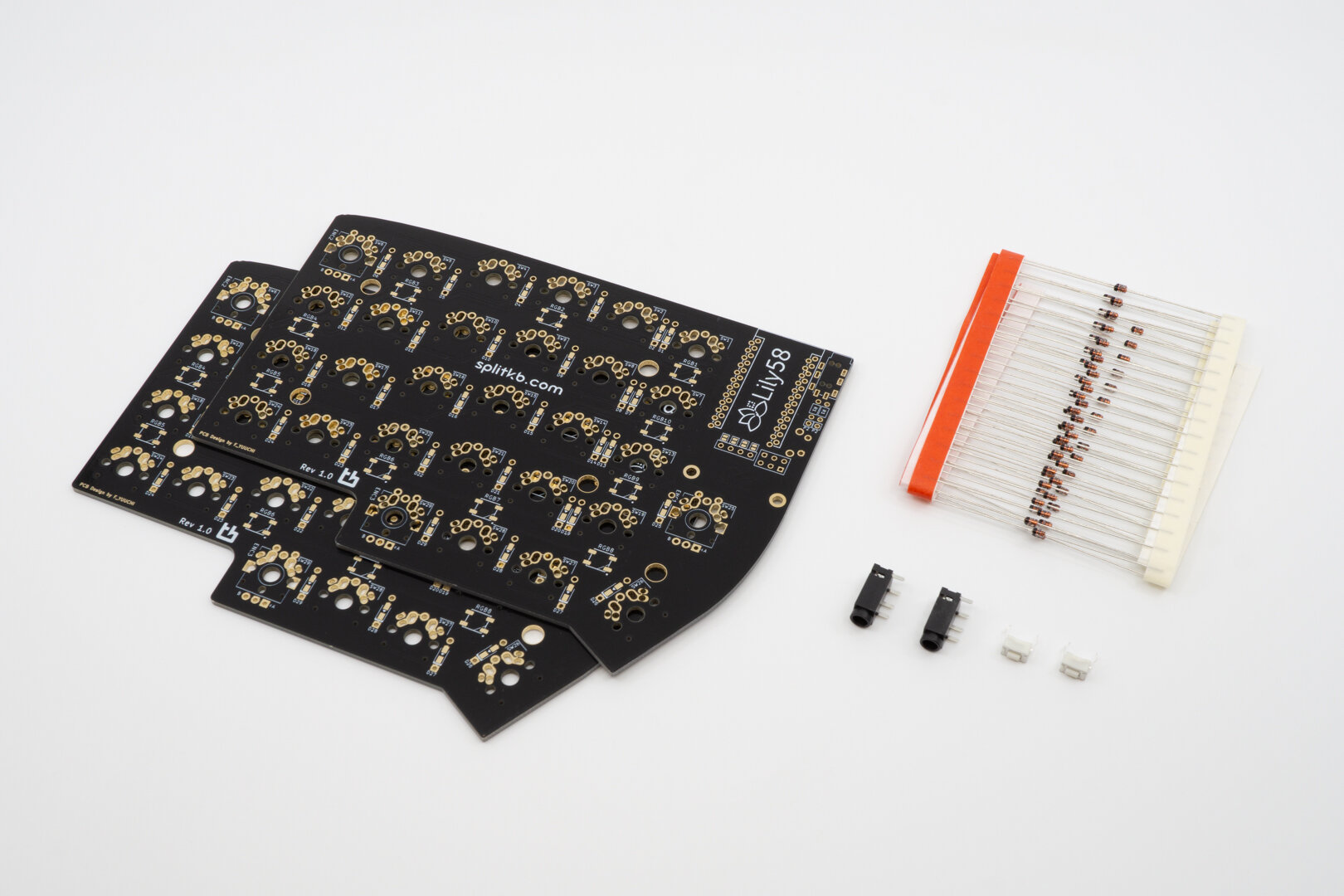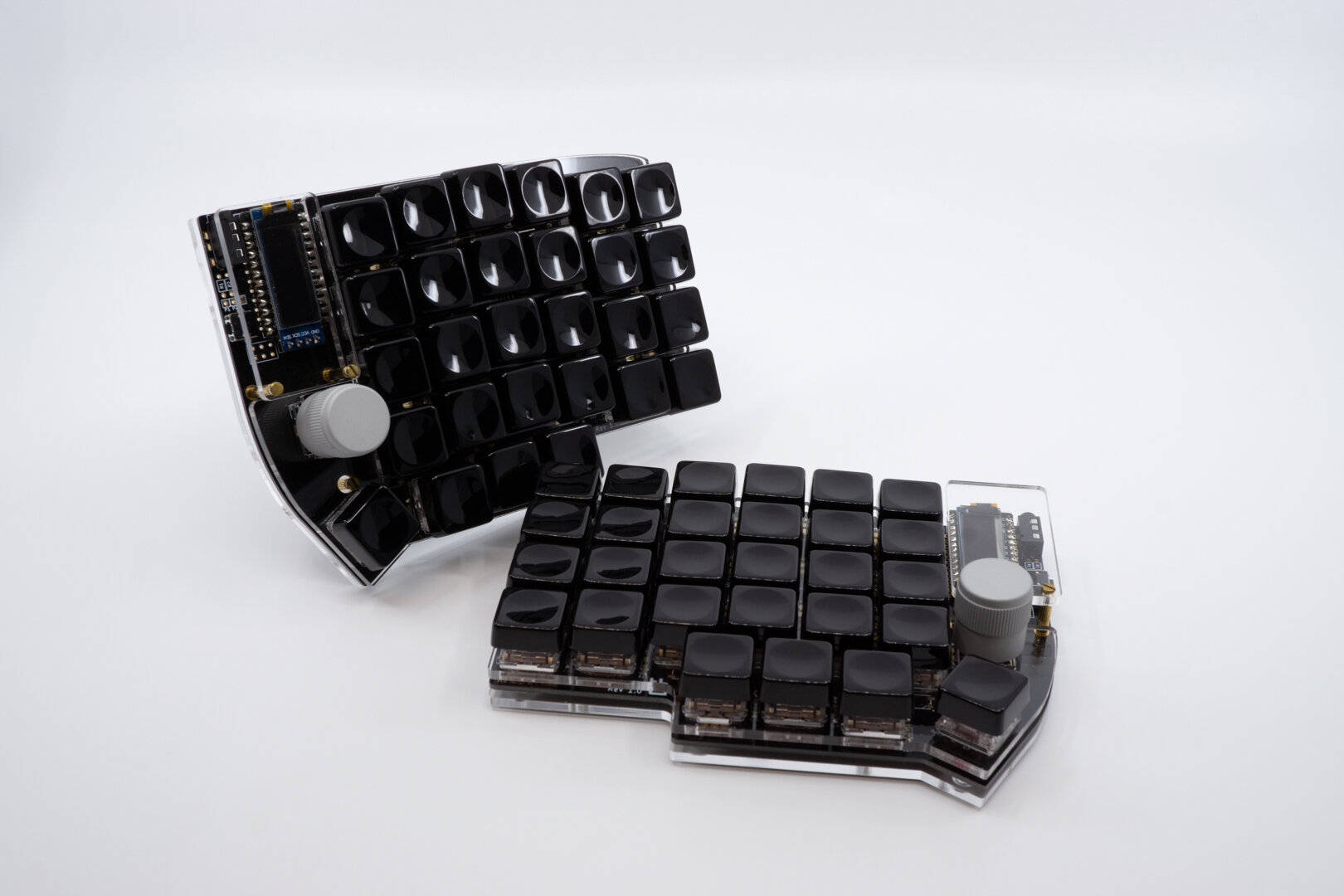 Order progress
Normal orders for in-stock items are still shipping within three work days;
Zima preorders are shipping out now;
Due to a manual error on my part in counting the various components for the Corne LP group buy, I am short a significant number of keycap sets. I am currently working to resolve this situation. At the moment, these keycaps are out of production and I am looking for a solution. You can expect more news on this soon, my apologies for the inconvenience.
The first batch of Corne LP group buy builds has been completed and shipped.
The second batch of Corne LP group buy builds will be started soon. This too will be affected by the delay on the main Corne LP group buy.
MBK choc keycaps
Good news! The MBK keycaps will become in stock again in early 2021, and should remain in stock for far longer this time. You can sign up for in stock notifications to be the first to know when they'll get in, and there should be enough keycaps for everyone.
Kyria case files
I have updated the Kyria case files slightly in order to support the upcoming Tenting Puck accessory. As a result, all files have been updated over at Github. More information about the Tenting Puck will become available soon, once I make the time to write a proper blog post about it! :)
Brexit
If this affects you, you're probably already tired of all the news surrounding it. Great Britain is leaving the European Union, and with it come a whole slew of ramifications and paperwork. As the Brexit affects shipping too, I'm working to figure out how exactly it'll affect your orders and my business. What does this mean?
If you have placed a (pre)order in 2020 which hasn't yet shipped, your order might get delayed due to Brexit. It might get held by either my local or your local customs authority, and you might get charged import fees and VAT. To prevent mixups, I will be holding orders starting January 1st until I get the situation sorted out properly so you won't be facing unexpected costs.
Placing orders from January 1st may become temporarily unavailable until the situation is clear and the required registrations have been made.
Shipping fees for DHL Express will increase by around €5. Other shipping fees may rise as well, to account for the extra overhead needed for cross border transport. These fees are set in place by my shipping carriers and are unfortunately out of my control. Existing orders will not be charged this fee increase retroactively, so current orders won't be affected by these increases.
At the moment, many aspects of the Brexit are still being negotiated. It's looking like significant work is required from me to be able to continue selling to residents of Great Britain. I'd like to continue doing so, but due to me having to handle all aspects of business, orders to Great Britain may face delays. Thank you for understanding and I wish the transition will go smoothly for everyone.
In the news
Last month, I was featured in an interview of a local newspaper, sponsored by our local municipality. I think it's a fun read, so I've translated it for you below.
Starting entrepeneur Thomas Baart achieves success with splitkb.com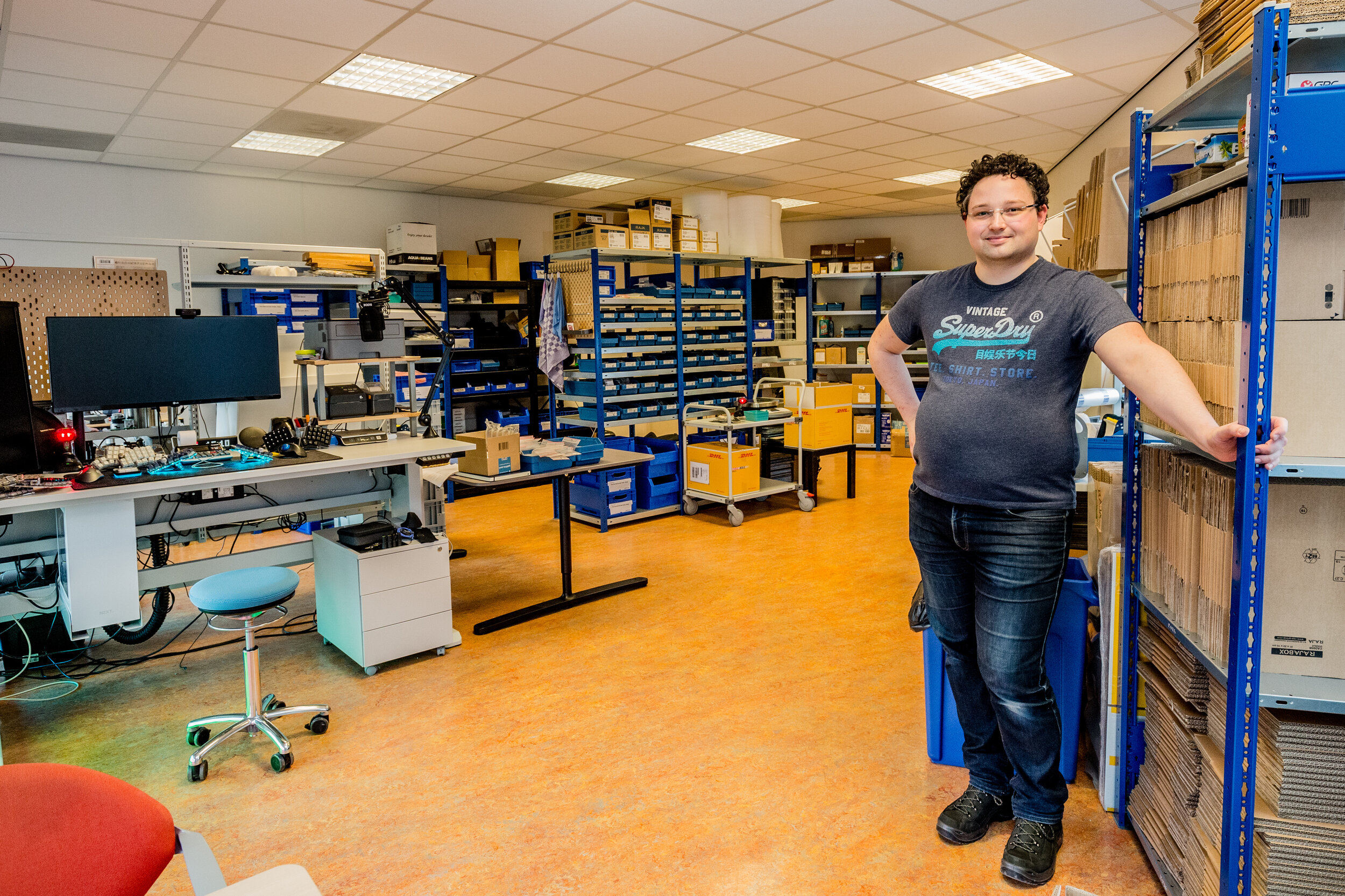 Whether entrepeneurship is something for him, is no longer a question for 28-year old Thomas Baart. In September 2019, he started his company and he hasn't sat still since. From the first day, people already knew where to find his online shop with split mechanical keyboards.
He's been at it for only fourteen months, but the number of orders has already increased tenfold. Only a single percent of the orders remains in his home country of the Netherlands, the remainder travels longer distances. Some of the packages contain only parts, others contain kits for entire keyboards. It's clear that the building blocks that Thomas creates and gathers are popular among enthusiasts.
The ideal keyboard
After having studied Information Sciences, Thomas started in the consultancy as a software engineer. After a few years, he discovered that wasn't the right place to be for him. "While I was good at software engineering from a technical perspective, it's not where my passion lies." In his spare time, he designed keyboards and keyboard cases, while looking for a solution for his RSI symptoms. "I couldn't find a keyboard that matched what I needed. I pursued the perfect keyboard for myself, and found it in the Kyria, which looking back was also the start of splitkb.com."
Thomas started blogging about his pursuit and with it, built the knowledge necessary to make his own keyboard. Blogging became an essential part of the job. His posts garnered interest from the community and with it, he slowly built a brand for himself. "I shared my knowledge and my process in the form of guides and tutorials. With it, people came to me with questions about ergonomic keyboards. I write a lot, so I can help more people with what I do," says Thomas, who aims to not just sell parts and keyboards, but wants to help his customers from beginning to end.
Work with impact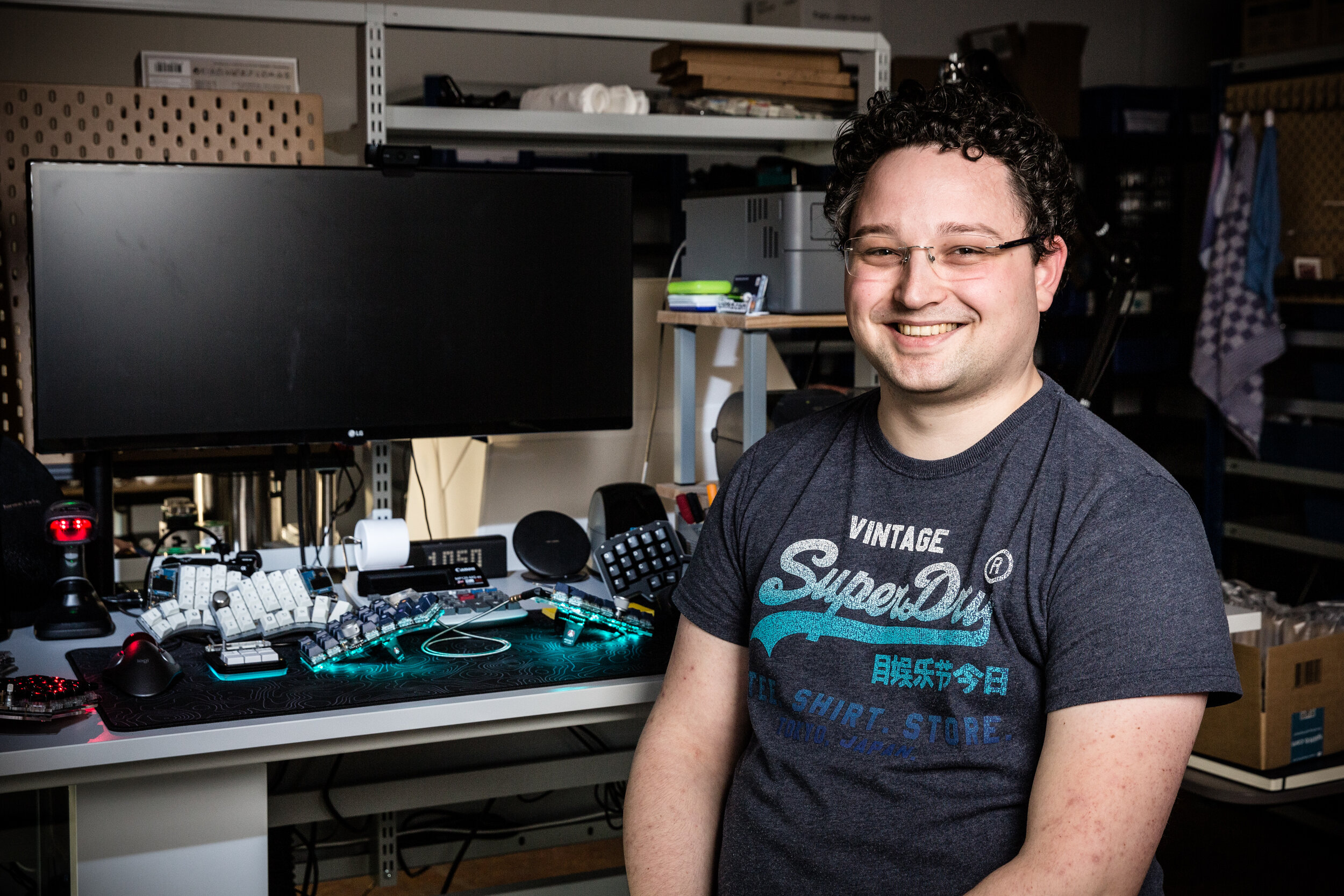 Forming his own company was thrilling, but Thomas is happy he took the leap forward. "My work is very diverse and contrary to my previous occupation, I can directly experience the impact that my work has now."
To aid in his developments, Thomas gets the help of a coach. "I followed a few sessions to help me lay the groundwork, and we still have contact regularly. It's helpful to be able to talk about challenges with a neutral party who has your best interests at heart. Having a coach gives me more confidence in making decisions. While a coach doesn't give you the answers, they do push you to think about aspects I might otherwise not have thought about."
The starting entrepeneur has faced some tough decisions many times already. This year, he took the step to move from a room back at home to a dedicated workshop.
The next challenge is ahead already. "With over two hundred orders a month, my time is mostly spent on logistics. I don't have as much time as I used to to write, design and help people. That's why I took the step to hire someone to help me pack orders and kit the various keyboards I sell", he said with slight pride. "If there's one thing about having a business, is that it's all about making choices."
From building blocks to a consumer-friendly keyboard
Aiming to put his focus back on development and writing, he continues to work on his dream. "The coming years I'd like to make the process of building a keyboard easier on people. My dream is to make a keyboard that people can just start using without having to learn about tools that might be difficult for them. The step from kits to readymade products is a rather big one, but it'll be a dream come true to have my products in nice packaging, ready to use."
Other news
As you might've noticed, the beta program for development on the Aysu and Elora keyboards has not gone live yet. I want to launch it at the moment I'm also able to devote time to development, to minimize the wait and maximize the action you'll get to see and participate in. And so, the program will launch when I have brought the order and support ticket queues down to a manageable level including the group buy orders. I believe this is the responsible thing to do, so more news will follow, it'll just take some more time.
Wrapping up
Wrapping up, rather literally this time! Before I continue further development, I want to have things wrapped up, so a clean state to start from in 2021. Please know that if you're waiting on something from me, be it a reply to a question or an order, I'm working to ship it to you as soon as possible. Don't hesitate to get in touch if you have any questions.
As always, thank you very much for reading these blog posts. You can join the Discord server to chat with over 1800 other people, and check out the Instagram page for some pretty pictures. See you next time!